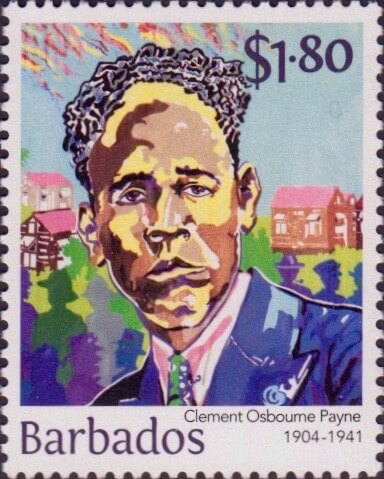 Barbados Postal Service issued a new series of stamps on 18th January 2106 entitled 'The Builders of Barbados'. This brand new set of definitives is intended to replace the 'Local Fruits' series which were initially issued on 7th February 2011 (SG1359-1374) and have been around for five years.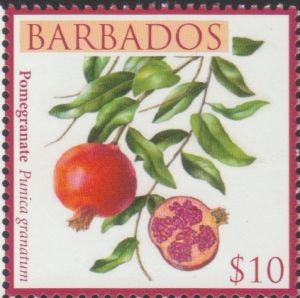 Wow. What a set! This new series really sets a new standard and features, in most cases, abstract representations of the individuals concerned. The stamps are, with one or two exceptions, based on paintings of the people featured and really capture the passion of these individuals.
The set comprises fourteen stamps with values of 5c, 10c, 25c, 60c, 65c, $1, $1.50, $1.80, $2.00, $2.20, $2.50, $3.00, $5.00 and $10.00. Many of the stamps are based on Oil Paintings of the Heroes of Barbados which you can see here.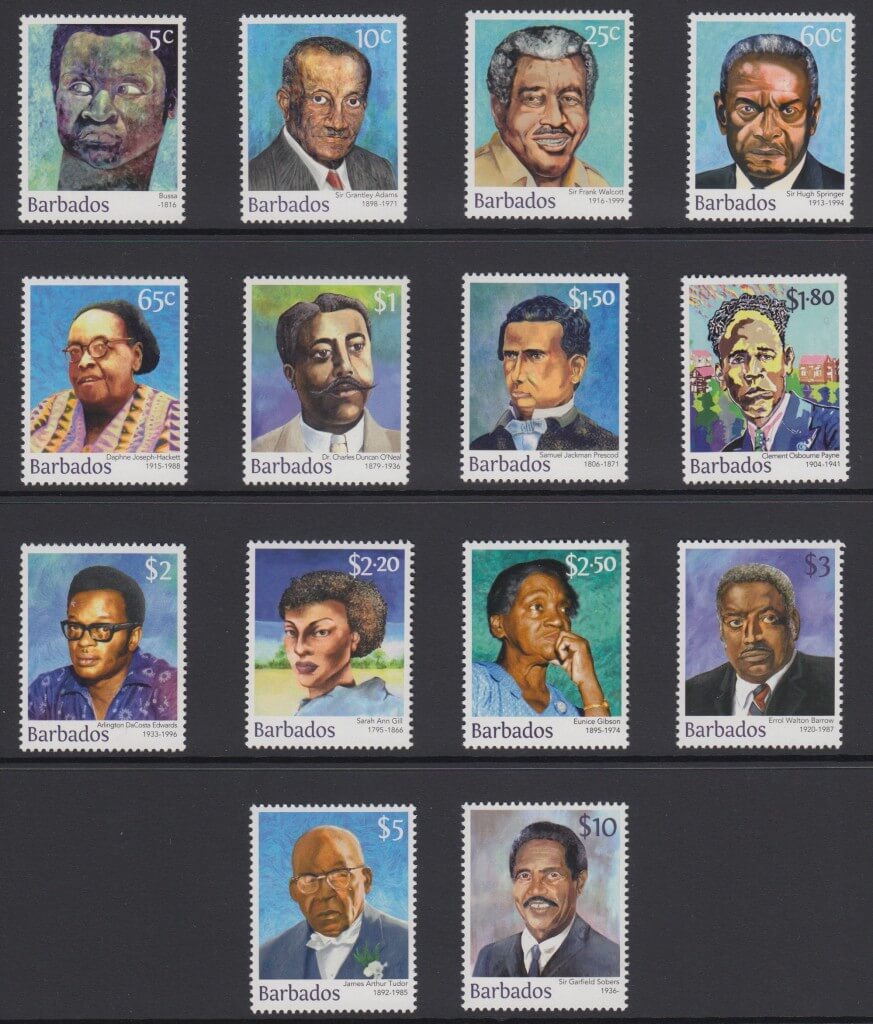 The stamps are accompanied by a fabulous eighteen page booklet, produced by the Philatelic Bureau, which contains a wealth of information about each of the individuals featured on the stamps.
For anyone wanting to know more about he people featured this is a real treasure trove and it describes the people, their achievements and why they are considered to be one of the Builders of Barbados.
As far as I can see this information is not available anywhere online so I am going to reproduce it below.
Please be aware that this information is taken directly from the booklet and remains the copyright of the Barbados Postal Service and/or the Barbados Philatelic Bureau. As an adjunct to this however I am going to add in any relevant links I can find to other online resources that may give you even more information about the people concerned, along with high resolution scans of the stamps concerned.
Introduction to the Builders of Barbados
This stamp issue celebrates those persons who have played a major part in Barbados' history and development, honouring the ten Barbadian National Heroes along with four other outstanding Barbadians. These individuals have all given outstanding service to the country, contributing to the improvement of the economic and social fabric, while demonstrating strong, visionary leadership.
According to the Barbados Order of National Heroes Act (1998), those people who have 'given outstanding service to Barbados', 'contributed to the improvement of the economic and social conditions of Barbados', and demonstrated 'visionary and pioneering leadership, extraordinary achievement and the attainment of the highest excellence' will be honoured every year on April 28th, a day set aside as National Heroes Day. The date was chosen in honour of the birth of Sir Grantly Herbert Adams, one of the ten national heroes of Barbados.
Bussa (- 1816) – 5c stamp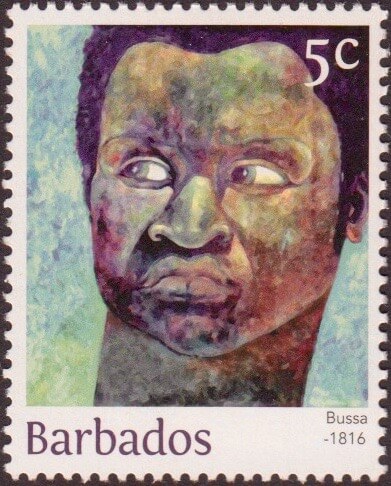 While it is claimed that an enslaved Bussa was born in Africa, and brought to Barbados in the late 18th century, there is little known about him. He worked on Bayley's Plantation in the parish of St. Philip and was one of the leaders, possibly the 'primary leader' of the 1816 rebellion, leading the slaves into Barbados' biggest, longest and best known uprising against racism and oppression by the white planters. However there is no mention made of him after the rebellion, and he was almost certainly killed in the fighting that took place. To this day the uprising is remembered as the 'Bussa Rebellion'.
In 1985, one hundred and sixty nine years after the rebellion, a large bronze statue was erected on the ABC Highway in honour of Bussa. The 'Emancipation Monument' known as the 'Bussa Statue' symbolizes the strength of emancipation through the depiction of a slave breaking free from chains.
In 1998, by an Act of Parliament, Bussa was named as one of the Heroes of Barbados, in honour of his significant contribution to the history and development of Barbados. The man Barbadians fondly remember as 'Bussa' played an integral role in changing the social and political landscape of Barbados.
To many Barbadians, this powerful, historic figure represents emancipation and freedom, and his legacy will live on for generations to come.
Additional resources
The history of slavery in Barbados
It is also worth noting that Bussa has already featured on an earlier Barbados stamp; the Bicentenary of the Abolition of the Slave Trade Act on the 10c stamp issued in 2007 (SG1310).
Sir Grantley Adams (1898 – 1971) – 10c stamp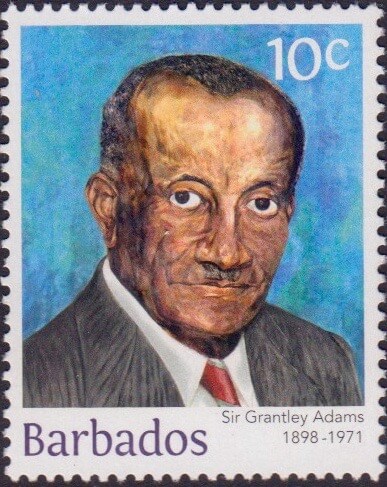 National Hero Sir Grantley Adams, was a celebrated and highly acclaimed social reformer who fought long and hard for the rights of those oppressed Barbadians.
As a respected lawyer and vocal trade unionist, he identified himself fully with the causes of the working class and sought to rescue Barbadians form the strong grip of social and economic inequality.
In 1934, Sir Grantley won a seat in the Barbados House of Assembly and used it as a platform to fight for a better life for underprivileged Barbadians. After founding the Barbados Labour Party (BLP), then known as the Barbados Progressive League in 1938, Sir Grantly became president of the Barbados Workers' Union (BWU). He worked closely with local trade unionists, and was very outspoken on the issues of the day.
Sir Grantly and his party demanded more rights for the poor and disenfranchised people. He was either the major figure, or an important one, behind some key achievements in Barbados, including universal adult suffrage, the establishment of a Labour Department, the setting up of Erdiston Teachers College, the construction of the Deep Water Harbour, improved working conditions for shop assistants and increased old age pensions. He also introduced legislation to improve the wages and working conditions for labourers in Barbados.
As the first Premier of Barbados and the first and only Prime Minister of the now defunct West Indies Federation, Sir Grantly was hailed as one of the most outstanding political leaders fro the Caribbean region. His unprecedented accomplishments in the political liberation of Barbados, and advancing the cause of workers and the poor exploited masses, led his numerous supporters to perceive him as a messianic figure. The respect and reverence held for this great leader, often referred to as 'Moses' and 'Messiah', lay in his unique ability to relate to and understand the needs of the ordinary folk. This National hero is also described as a political legend, the father of democracy, distinguished leader and visionary politician.
Additional resources
Sir Grantly Adams Wikipedia page
Grantley Adams International Airport – anyone who has flown into the island can't help but notice that they have arrived at Grantly Adams International Airport.
YouTube animated video
A stamp depicting the Grantley Adams airport was issued in 1993 (SG985) featuring a BWIA McDonnell Douglas MD-83 plane over the airport.
Sir Frank Walcott (1916 – 1999) 25c stamp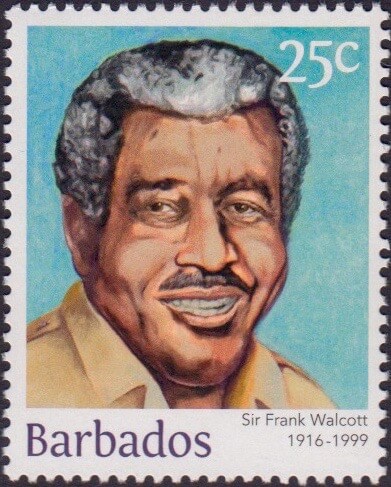 It was Sir Frank's fearless and outspoken style that caught the attention of national hero Sir Hugh Springer, who invited him to join the labour movement.
This heralded his vocation as an active trade unionist, building on the foundations laid by stalwarts such as Sir Grantley Adams and Sir Hugh. Sir Frank who was widely regarded as a tough, principled negotiator with a visionary approach to bargaining for improved conditions for the working class, described himself as, 'Frank by name and Frank by nature'. One of the national heroes of Barbados, Sir Frank served the Barbados Workers Union, (BWU) for several decades and under his leadership the union became a more militant and prominent entity.
Guided by the principle, 'Unity is strength. Where there is no vision the people perish', his pragmatic approach to trade unionism captivated and swayed workers to join the movement. Sir Frank, a gifted debater, was steadfast in his quest to expand the role of the union, and this led him to concentrate on collective bargaining, the development of the professional trade unionist, worker education and better housing, as well as on improved conditions for the quality of life in Barbados as a whole. He was a major contributor to important legislation relating to issues such as severance payments, maternity leave and holidays with pay. The Labour College at Mangrove which provide scholarships for members of the BWU and their dependents, stands as testimony to his progressive thinking.
Sir Frank served on various local, regional and international bodies, including the Caribbean Congress of Labour, the Governing Body of the International Labour Organisation, and on the Executive Board of the International Confederation of Free Trade Unions. His illustrious service to Barbados went beyond the union; he served as a Member of Parliament, a Senator and President of the Senate, as well as the country's first Ambassador to the United Nations. In 1954, he was appointed an officer of the order of the British Empire (0BE) in the Queen's Birthday Honours, and in 1987, he was also conferred the nations highest honour, Knight of St. Andrew (KA).
Additional Resources
Sir Hugh Springer (1913 – 1994) 60c stamp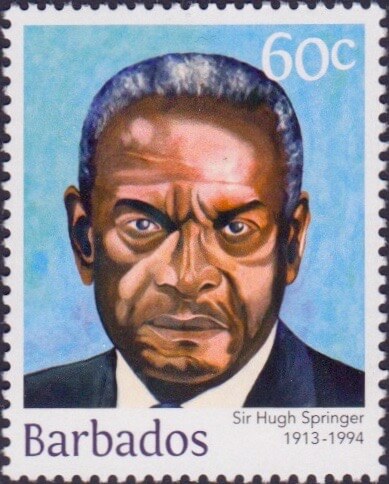 The Right Excellent Sir Hugh Worrell Springer is one of Barbados' National Heroes. Recognised as an outstanding administrator, he was the organiser and first General Secretary of the Barbados workers union (BWU) from 1940 to 1947, before leaving Barbados to take up the post of Registrar of the newly established University College of the West Indies in Jamaica.
Sir Hugh held many positions of importance but it was as General Secretary of the BWU that he helped to expand its membership, attracting agricultural as well as white collar workers. It was an important step that aided the early growth and development of the organisation at any time when there was a pressing need for improved conditions for Barbadian workers. As a man with many academic achievements, Sir Hugh held three key positions within the Commonwealth Grouping, serving as Secretary General of the Association of Commonwealth Universities, Commonwealth Assistant Secretary General and Director of the Commonwealth Education Liaison Unit.
A highly successful lawyer, Sir Hugh had a long and distinguished career in the public service. He rose from educator, to politician, leader of organised labour, parliamentarian and member of the Government, to the pinnacle of public life as Head of State. Such were the achievements of Sir Hugh Worrall Springer, Barbados' third native Governor General and National Hero.
Additional Resources
You Tube animated video
Obituary in the Independent 1994
Daphne Joseph-Hackett (1919 – 1988) 65c stamp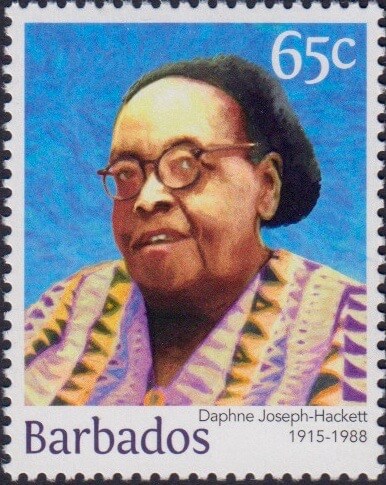 Daphne Joseph-Hackett was celebrated by many as the 'Mother' or 'Grand Dame' of theatre in Barbados and the Caribbean. These titles aptly sum up the legacy of this giant of the performing arts, whose far-reaching influence has left an indelible mark on the cultural industry. A gifted pianist, teacher, actress, scriptwriter and director, Joseph-Hackett dedicated her life to helping others hone their talents.
Driven by her passion for excellence and a love of choral music, Joseph-Hackett was a key figure in charting the development of the dramatic arts in the region. She shared her many talents by conducting Arts lectures and workshops, as well as facilitating valuable exchanges between theatre groups in Barbados and several Caribbean Islands. She is fondly remembered for her stellar performance in the locally produced radio series 'The Braithwaite's of Black Rock' in which she captivated Barbadian audiences.
The numerous plays and pantomimes which she either wrote, produced or directed, were testimony to Joseph-Hackett's versatility and skilful command of the stage. She was undoubtedly a valuable asset to the National Independence Festival of the Creative Arts (NIFCA) and often accompanied soloists, violinists and choir groups. Her influence and contribution to the arts enhance the performance of many groups, Including the Barbados Festival choir, the Barbados Dance Theatre, the Girls Guide Movement and Stage One Theatre Productions.
As a fitting tribute to this Builder of Barbados, Joseph-Hackett was awarded the Queens Jubilee medal and the Barbados Service Star for her contributions to drama. The Queen's Park Theatre in Bridgetown also bears her name.
Additional Resources
Nation News profile
Barbados Pocket Guide to the Theatre
Remembering Daphne Joseph-Hackett
Dr Charles Duncan O'Neal (1879 – 1936) – $1 stamp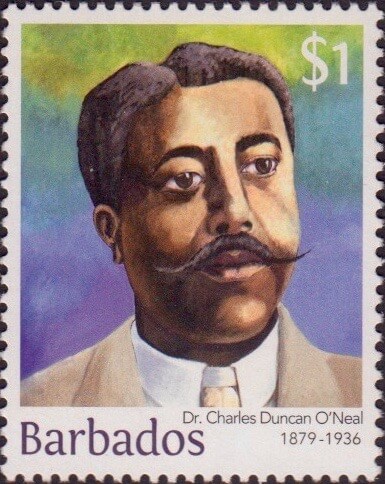 Dr Charles Duncan O'Neal studied medicine at Edinburgh University in Scotland, where he gained distinctions and the honourable Blue Ribbon in surgery.
Although he was from the privileged class, Dr O'Neal dedicated most of his working life to the poor and downtrodden. Against a backdrop of the depressed living and working conditions for many Barbadian workers, he pressed for social and political reforms. He fought against the oppressive system of racism while agitating for free education and free dental care for children, the abolition of child labour, improved housing and the removal of the infamous Located Labourers' System and the Masters and Servants Act.
He founded the Democratic League in 1924, and eight years later won a seat in the House of Assembly, representing the City of Bridgetown. Hailed as the first politician in Barbados to rally for improved working conditions for women, O'Neal also supported the role of women in leadership positions in the Democratic League and Working Men's Association, two important grass-roots organisations. O'Neal who died in 1936 at the age of 57, also invested in The Herald, a newspaper which became his voice for social change and reform. As a tribute to this extraordinary Barbadian and National Hero, his portrait is featured on the $10 note, while the Charles Duncan O'Neal Bridge in Bridgetown is named in his honour.
Additional Resources
YouTube animated video
Samuel Jackman Prescod (1806 – 1871) $1.50 stamp
National Hero of Barbados Samuel Jackman Prescod, was one of the leading political figures of the 19th century Barbados. Described by some as the greatest Barbadian of all time, Prescod hated the treatment meted out to Free Coloured people in Barbados by the planter class and fought for the rights of the underprivileged. He sought to unite the masses and to agitate for their enfranchisement.
In June 1831, Prescod successfully won permission for Free Coloured people to exercise their fundamental right to vote, with the passing of the Enfranchisement Bill. He was elected in 1843 as one of two members for the newest constituency, the City of Bridgetown, making history as the first non-white to sit in the House of Assembly. Prescod later achieved recognition as the leader of a small group of white members who agreed with his policies. He used this influence to establish the Liberal Party, A political organisation which continued to fight for social justice for over 25 years and became known as the unofficial opposition.
It can be argued that Prescod had his greatest impact on people through the printed page. A gifted writer and newspaper editor, he used the power of his pen to encourage social consciousness, using this medium as well to provide free discussion on all topics relating to the labour force. He also wrote scathing articles accusing the planters of pursuing policies which oppressed blacks and so made freedom unimportant.
Prescod, who retired from Parliament in 1860, implemented educational programs to help black Barbadians know their rights so they could challenge the plantocracy. He fought for the establishment of primary, secondary and tertiary education for the children of former slaves. He also encouraged the Secretary of State to review clauses in the Police Act which were considered unjust and maintained unfair distinctions between white and coloured people. In recognition of his fight to provide educational facilities for the children of ex-slaves, the Samuel Jackman Prescod Polytechnic in Barbados was named after him.
Wikipedia page
YouTube animated video
Polytechnic Facebook page
Samuel Jackman Prescod was of course featured prominently on the Barbados stamp issue of 1971 marking his death centenary where he was on two stamps SG434 and SG435.
Clement Osbourne Payne (1904 – 1941) – $1.80 stamp
'Educate, agitate, but do not violate'. This is the principle by which Clement Osbourne Payne lived as he sought to educate the masses, encouraging them to come together to resist the white planter class. Payne was a pioneer in the Caribbean trade union movement and an outspoken critic of politics and the social and economic order of the day. He agitated for improved working and living conditions, by organising several public meetings at which his fiery, outspoken speeches were well received.
Born in Trinidad to Barbadian parents, Payne was brought to Barbados as a small child. He later returned to Trinidad, where as an advocate of social justice he was involved with the growth of militant trade unionism. Payne is best remembered when on his return to Barbados, he organised several public meetings, to help poor Barbadians see the importance of coming together to resist the white planter class. Considered as a dangerous revolutionary that threatened the very nature of Barbadian society at the time Payne's activities were closely monitored. He was accused of lying to the immigration authorities about his nationality, arrested and later deported. His deportation sparked the 1937 riots during which at least 14 persons were killed and scores of others either wounded or arrested.
Payne's tireless efforts were not in vain as the disturbances forced the Barbadian authorities to acknowledge the need for social reform. The British government appointed a commission of enquiry, dubbed the 'Moyne Commission', to assess the prevailing social conditions in the British West Indian colonies. The commissions report vindicated Payne in declaring that his charges against the islands ruling class were accurate and that's there was a critical need for reform. Clement Payne, who died in Trinidad in 1941, was later named a National Hero of Barbados.
Wikipedia page
YouTube animated video
Arlington DaCosta Edwards (1933 – 1996) – $2 stamp
Arlington DaCosta Edwards was born in the rural parish or St Joseph. The late educator and politician, familiarly known as 'Joy' Edwards, represented St. Andrew in the House of Assembly from 1961 to 1973. At different points in his political career, he was a Minister of Social Service and a Minister with responsibility for Housing, where he saw to the provision of affordable housing for St. Andrew's residents and many others across the island. Edwards first ran for Parliament in 1961 on a Democratic Labour Party (DLP) ticket, becoming, at age 28, the youngest minister of government and representative for St Andrew. His 12 year ministerial career saw him handling a number of other portfolios including Sports, Community Development, Labour, Tourism and National Insurance.
An educator by profession, Edwards resigned from the cabinet in 1973 to go into dairy farming. He taught at the Arlington High School, was deputy head teacher of the Modern High School, and founder and principal of St Anthony's School and the then Federal High School. His stellar contribution to education was exemplified at the Federal High School where free education was provided for 255 students out of a student body of 1,700. These scholarships afforded many children an education of which they would have otherwise been deprived due to financial constraints. In 2011, the A. DaCosta Edwards Primary School in St Andrew was fittingly renamed in his honour.
Additional Resources
Nation News profile
Sarah Ann Gill (1795 – 1866) -$2.20 stamp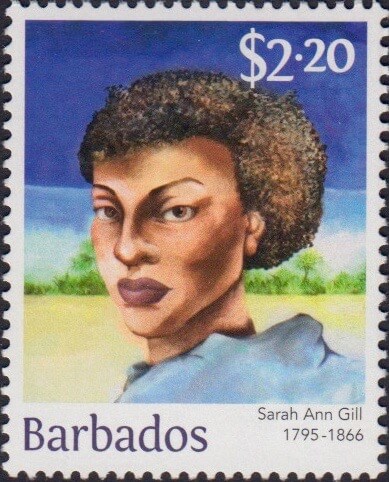 Sarah Ann Gill, a member of the Free Coloured Group was a social and religious leader in Barbados during the days of slavery. As a free, coloured woman she chose Methodism as her religion, making a donation towards the building of the first Methodist Chapel in Bridgetown in 1819. Admired for her bravery and fierce determination, Gill became a full member of the church in 1820.
The Methodist religion in Barbados was met with great hostility by the ruling class of the island as it challenged the existing social order. As the church grew, Gill staunchly safeguarded the Methodist community, including blacks and coloured members together, even in the face of increased persecution. She possessed a unique ability to fight social ills without physical confrontation, instead using powerful and effective prayers to strengthen and redirect her focus and that of her church members.
When the planters succeeded in forcing Methodists missionaries out of Barbados, she stood up against them, opening her home as a church and keeping the Faith going despite the persecution and continued threats to her life. She was prosecuted in the law courts for holding 'illegal meetings' and had shots fired at her home. The chapel building was also destroyed by a mob of white rioters. Gill's strength, faith, perseverance and tireless commitment to religious freedom only serve as a tremendous source of inspiration for women in Barbados and Barbadians on whole.
The Ann Gill Memorial Church in Black Rock is named after this National Heroine of Barbados, the only woman to be so honoured in 1998, no doubt for her courageous fight against oppression and social injustice, against all odds.
Additional Resources
Wikipedia page
YouTube animated video
Eunice Gibson (1895 – 1974) – $2.50 stamp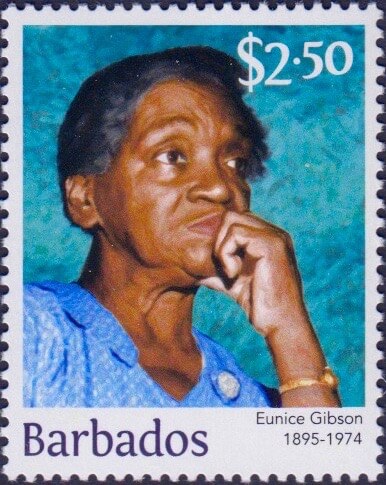 It was in the 1930s that Eunice Gibson began her illustrious nursing career, working at what was known then as the Barbados General Hospital. With her foresight, vision and passion, Gibson tirelessly fought to advance the cause of the island's nurses through education, training and financial support. Her efforts bore much fruit, as was evident by the establishment of several bodies designed to raise the standards of the nursing profession.
She is credited with initiating the Barbados Registered Nurses Association in 1936, as well as the District Nursing Service and the Nursing Service Centre in 1937. In the spirit of humanity, Gibson had also offered a free service to poor people who could not pay for the services given by nurses in the community. Gibson, who died in 1974, also started a clinic at a Moravian church. The development later paved the way for the setting up of health clinics to serve various communities.
Her strong leadership and love for country, transcended the nursing profession to the political arena. She was one of the first of two women who had the privilege to sit on the male dominated Bridgetown City Council, serving from 1959 to 1967. Eunice Gibson's stellar contribution to nursing and national development has not gone unnoticed, as in 1962, she was made a Member of the British Empire (MBE). The headquarters of the nurses' body has been named in her honour and a government run polyclinic in the business Centre of Warrens, St. Michael, proudly bears her name.
Additional Resources
Errol Walton Barrow (1920 – 1987) $3.00 stamp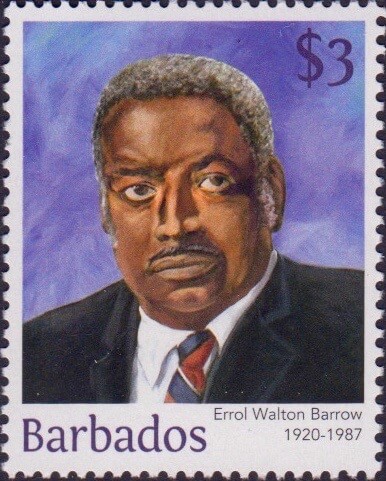 Celebrated as the 'Father of Independence', Errol Walton Barrow was instrumental in effecting many fundamental and wide-ranging social and economic changes for Barbados. One of the founding members of the democratic Labour Party (DLP) Barrow came to power as premier after the DLP won the elections in 1961. Five years later, he led to the island into independence from Britain, thus becoming the first Prime Minister of Barbados, a capacity in which he served until the party was defeated in the 1976 election.
In 1939, Barrow won a scholarship in Classics to Codrington College, but rather than pursue those studies, he joined the Royal Air Force and served in the Second World War. Thereafter he studied law and was called to the Bar, in 1949. A year later, he returned to Barbados as a practising Barrister at Law and became a member of the Barbados Labour Party (BLP) in 1951. In the same year he won a seat in the house of assembly for the BLP, representing the parish of St George. As a proud Barbadian and Caribbean man,
Barrow oversaw Barbados's development as an independent nation, successfully securing many social changes in Barbados. He lowered the voting age to 18, significantly expanded the system of free secondary education and introduced free tertiary education, establish the National Insurance and Social Security Scheme, improved health services, and accelerated industrial development and expansion of the vital tourism industry. Under his strong leadership, Barbados enhanced its international profile and became a member of several important global organisations.
A strong supporter of the University of the West Indies and regional integration, Barrow was also the co-founder of the Caribbean Free Trade Association (CARIFTA) and the Caribbean Community (CARICOM). He received many awards while serving as Head of Government. Among them were an Honorary Doctorate of Civil Law from McGill University in 1966 and the Lions International 'Head of State Award', for outstanding service to the country in 1967. Today, the birthday of this National Hero is celebrated with a national holiday on January 21.
Additional Resources
James Arthur Tudor (1892 – 1985) $5.00 stamp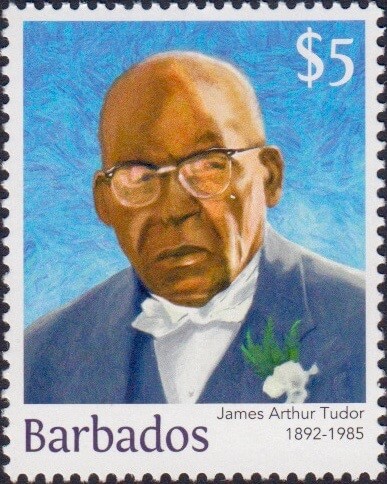 James Arthur Tudor was undoubtedly one of the most successful and pioneering black business owners in Barbados. From very humble beginnings in the rural parish of St Philip, Tudor launched into business at the young age of 25. Known to many simply as 'Daddy Tudor', his keen aptitude and flair for business saw him succeeding in various business activities. He was a shopkeeper, an undertaker, a provision merchant and a drinks manufacturer. The many properties he owned were tangible evidence of his remarkable success in business.
It was in the distributive trade, however, that he clearly made his mark as an astute businessmen and a formidable force, through the establishment of a number of outlets across the island. This development made it possible for persons living in the rural villages of Barbados to purchase goods not previously available in their districts. Tudor, who had been touted as a humble and deeply religious man, also held yearly Thanksgiving services at his home 'Lemon Grove' situated near Westbury Road, St Michael.
With his business acumen firmly established, he branched out into elective politics, contesting and winning a seat in the Barbados House of Assembly in 1935, Riding on a Democratic Labour Party ticket. This well-known merchant and industrialist, who was honoured by the Barbados Manufacturers Association for his sterling contribution to the development of manufacturing, also had one of the island's roundabouts named after him. Tudor died in 1985 at the age of 92.
Additional Resources
Sir Garfield Sobers (1936 – ) $10.00 stamp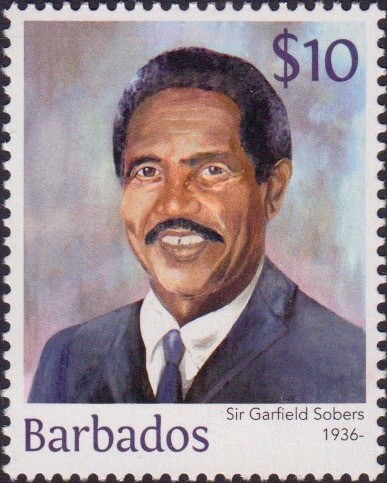 Sir Garfield St. Auburn Sobers, also known as Gary Sobers, is a former cricketer who played for the West Indies between 1954 and 1974. Widely considered to be the greatest all-rounder in the game of cricket, he captained the West Indies team 39 times, displaying a talent that eventually took him to international fame.
He amazed everyone with his extraordinary skills, playing some unforgettable innings during his illustrious career. Sobers is viewed as a cricketing genius because of his numerous skills and records in the game. He became the first batsmen to hit six sixes in one over, and was not only skilled as a fast medium or spin bowler, but also as a fieldsman. He played 93 tests for the West Indies, scoring 8032 runs at an average of 57.78, and taking 235 wickets and 110 catches. His batting record of 365 runs not out in a test match stood for 36 years.
Sobers became a dual Barbadian– Australian citizen through marriage in 1980. He remains a legend in international cricket, but was an exceptional athlete and outstanding sportsman with an interest in football and golf. He is an international ambassador for cricket and has represented this country with pride all over the globe. Sir Gary, who is Barbados' only living National Hero, achieved many firsts throughout his cricketing career, but the highest achievement for this humble son of the soil, was the knighthood bestowed on him at the Garrison Savannah by Queen Elizabeth II in 1975 for his service to cricket.
Additional Resources
YouTube six sixes in an over
Sir Garfield Sobers was previously featured on the stamps of Barbados in 1977 SG574 with him being Knighted by Queen Elizabeth II and also on the Royal Visit version later that year SG590. He was also on the $2 stamp in 2000 SG1169.
There are also a set of three first day covers (FDC's) capturing this new issue and these are shown here;