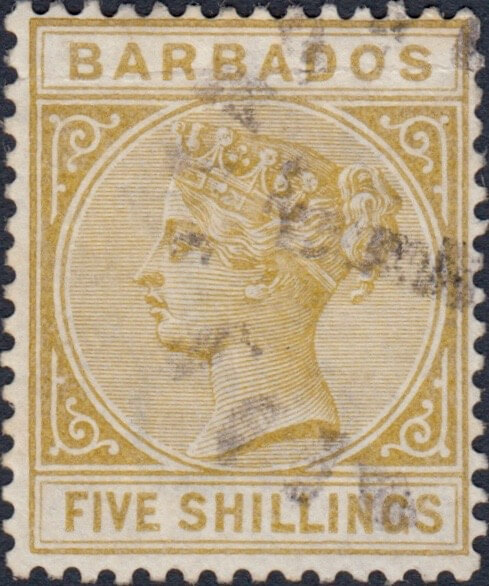 Back in 1892, 5/- was a lot of money. In incredibly large amount in fact and on that basis it is astonishing to find a 5/- stamp, sent from Barbados as a means of postage, in fine used condition. Even more interesting about this find is that the stamp was cancelled with the numeral 1 bootheel canceller at the General Post Office in Bridgetown.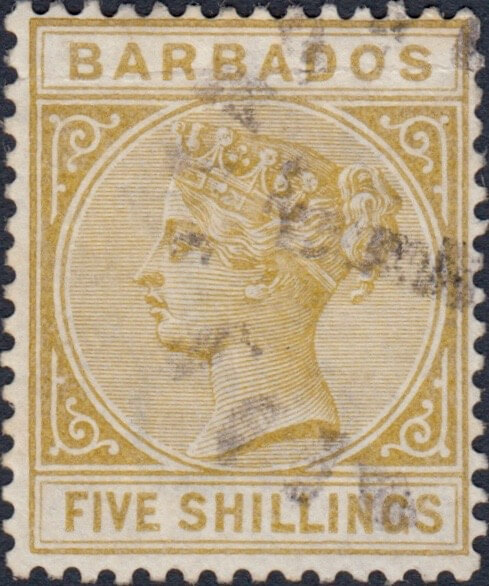 Now, this might not seem that strange at first glance, after all, there are thousands of Barbados stamps out there with the numeral 1 bootheel cancel on them. What makes this so interesting though is that finding these keyplate type stamps with numeral cancels on is a much harder job than you might think.
The first Circular Date Stamp (CDS) canceller was sent to Barbados in the early 1880's and went into use in the General Post Office straight away. This meant that the old numeral 'bootheel' cancellers were retired and we see the appearance of the CDS on stamps far more frequently. So, from the last set of Britannia stamps between 1875 and 1880 onwards we see fewer bootheel cancels and more and more CDS cancels.
In fact, trying to find the common SG74, the 1d Britannia value from 1875, with a numeral 1 bootheel cancel on it is almost impossible. Imagine therefore how rare it is to find them on the set of stamps that finally superseded the Britannia's in 1882.
Now, imagine that the bootheel canceller has been retired for five years and try and find it on the highest value stamp of the period. That's rare. Bear in mind that 5/- in 1882 is equivalent to around £30 today, and that buys you a lot of postage.
The only way I can conceive of this happening, therefore, is that the stamp must have been part of a parcel that went from the Parcels counter in the GPO and still received the old bootheel rather than a CDS as that was the only canceller to hand at the time. The crease across the top of the stamp, through the word Barbados, certainly hints at Parcel use.
Logically, and if one accepts that all the standard texts on these stamps and cancellations are correct, this combination of the 5/- with a numeral bootheel on it cannot possibly exist. Clarke, Cave & Radford in their book on the Postmarks of Barbados state that the latest known date of the GPO numeral bootheel '1' is 1878, but if that is true then the number 1 cancel cannot possibly exist on any of the Victorian keyplate types as these were issued between 1882 and 1886.
Yet just this month an article in the British West Indies Study Circle magazine by Simon Goldblatt showed the 1d Victorian keyplate type with a set of all the numbers 1-11. All were real, none was forged and therefore, logically, Clarke Cave and Radford's book must be incorrect with regards to the last known date of uses of this canceller.
When this item appeared for sale therefore, you can imagine how keen I was to get it. I have never seen another of this top value with a bootheel on it and even now there's part of me afraid that this might be a forgery although with the crease and parcel use explanation, I hope that isn't the case, naturally. Either way, it's a really interesting stamp and has provided a great deal of fun researching the history behind this fascinating period in Barbados philately.
And of course, we live in hope and perhaps this is one of those lucky finds…