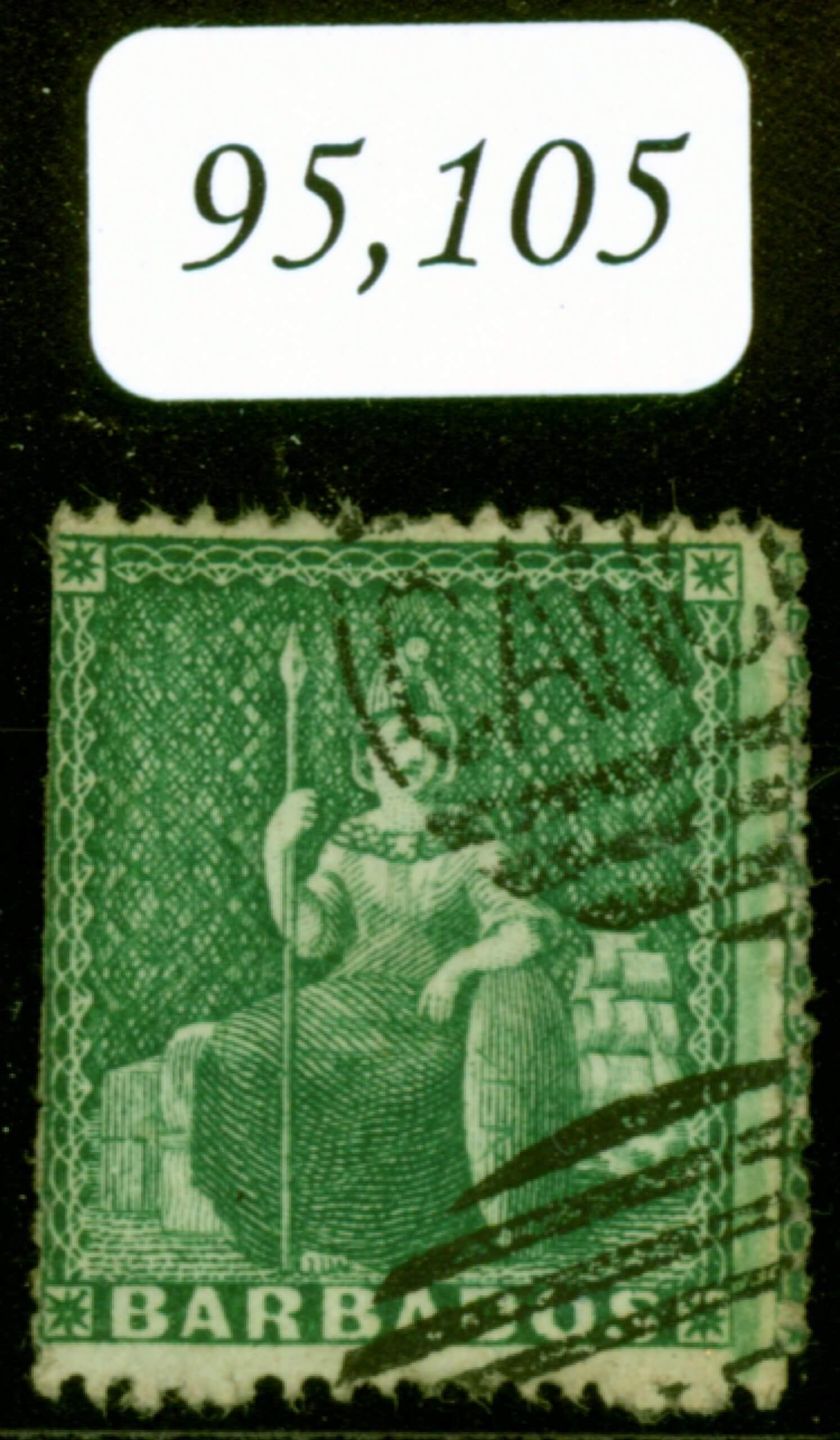 It's the dream of every stamp collector; that one day they will be rooting through an old collection and stumble upon a long lost philatelic rarity.
Well, this is exactly what happened recently to Stuart Chandler of Empire Philatelists.
He had bought a general A-Z QV-KGV Empire Collection, not specialised, but it was fairly comprehensive, with a view to breaking it down into lots for other collectors to buy. Like many dealers, they buy large lots for exactly this purpose, not knowing what it may contain. 
He started breaking the collection down and didn't spot this stamp straight away. He worked alphabetically and when he got to Barbados, he started in order, with the early imperforate stamps first. So, it was ten minutes or so before he got to the rarity and as Stuart says, "…once I removed it from the page it was clear that it was a 'Perkins Bacon Cancelled stamp'.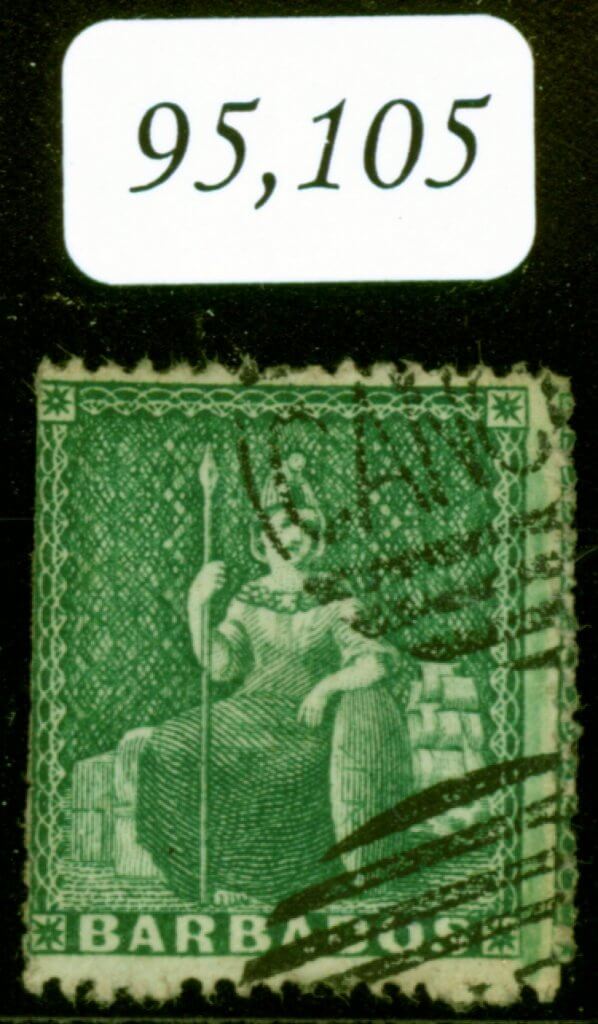 Now at this stage, many of you won't know the significance of this stamp, but it's a fascinating story. So fascinating in fact, that it was the subject of a book written by a very famous Barbados collector, Peter Jaffé, entitled "Cancelled by Perkins Bacon", published by Spink & Son in 1998.
The story is summarised very well on the David Feldman website in an article entitled 'The Perkins Bacon "CANCELLED" Handstamp'.
The book describes the extraordinary circumstances by which Perkins Bacon lost their Crown Agents printing contracts and it starts with them agreeing to a request from Sir Roland Hill's nephew, Ormond Hill, to Joshua Bacon, head of Perkins Bacon, to provide a few 'remainder' stamps for him and his collecting friends.
Some time later, six "obliterated impressions" of each of the postage stamps they had in their possession, were sent to Roland Hill's son with the suggestion that he keep two each for himself and send the rest to his cousin, who had made the original request.
When the news of this 'gift' became public knowledge, there was an uproar, and Ormond offered to return the stamps but also asked if anyone had any objections to him giving away any that were superfluous.
The stamps themselves had all been struck with a 'CANCELLED' hand stamp, with four bars above and below the word. This meant that for each block of six stamps issued, there were just two cancels across the block.
There are known to be blocks like this for 20 different British Colonies, plus Chile, but their whereabouts are, in some cases, still unknown.
And this was precisely the case with Barbados, where four of the six had been discovered but two were still missing. Until now.
Now, we are missing just one stamp as Stuart has discovered one of the missing two.
Current records show that four are known, so his first port of call was trying to find images of these four, using Spink auction results, most notably the Peter Jaffé collection, formed over many years and sold in 2006, the web and Stampboards.
The aim was to see if this was one of the known four, or one of the missing two, and with the help of Spink we confirmed it was one of the two missing stamps, in fact the one from position three.
You can see from the image where the stamp fits and it's quite apparent straight away that this stamp was one of the original six.
But to really nail the provenance, the stamp needed to be certified by a reputable body, in this case the British Philatelic Society, and following a detailed examination, it was duly certified on 25th November 2020.
The certificate (shown here) says;
BARBADOS:1861 (½d) deep green, no Wmk, clean-cut Perf 14 to 16 (SG17), hand stamped with two part strikes of the Perkins Bacon "CANCELLED" hand stamp, stamp 3 of the block (see Jaffé, "CANCELLED" by Perkins Bacon" p.27), thus the example adjacent to the Hurlock/Latto/Jaffé example, perfs trimmed at left, is genuine.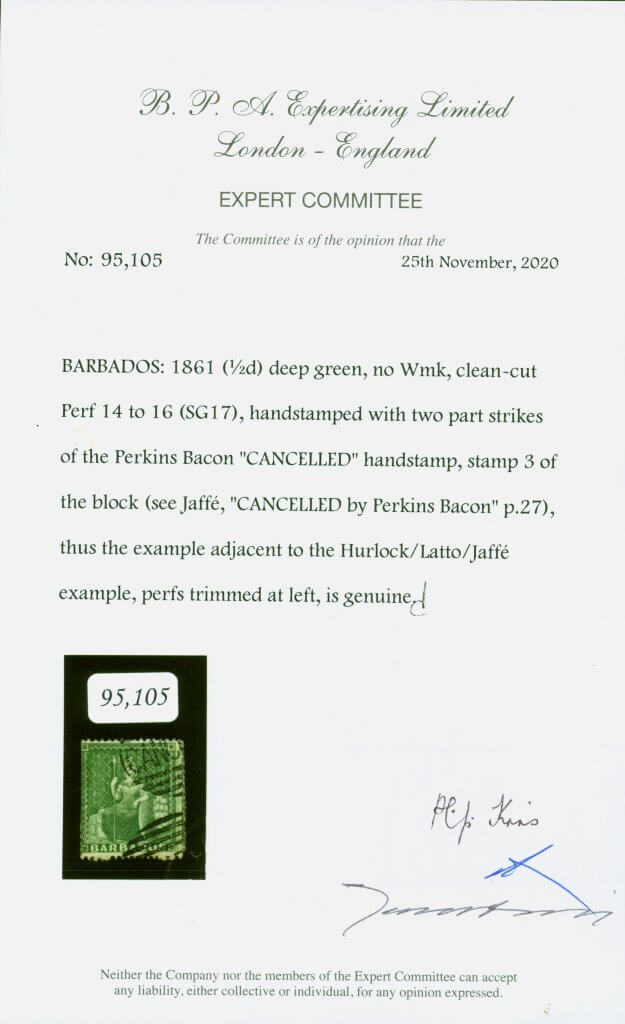 This is, of course, a stunning find and an amazing story. But it raises lots of questions such as 'how did it get into this collection?', 'how long had it been in the collection?', 'did the previous owner have any ideas that this was a 'rare' stamp?' And most importantly, 'where is the final missing stamp in this block?'
The fact that this one has turned up after so many years is astonishing and it may be, that the final stamp will never be found. But all of us collectors are secretly hoping that one day, someone will open a general collection and spot the rarity just nestling in the pages.
And finally, having now had the stamp certified, if you want to purchase it for your collection, Stuart has it up for sale on his website (see below) for £7,950.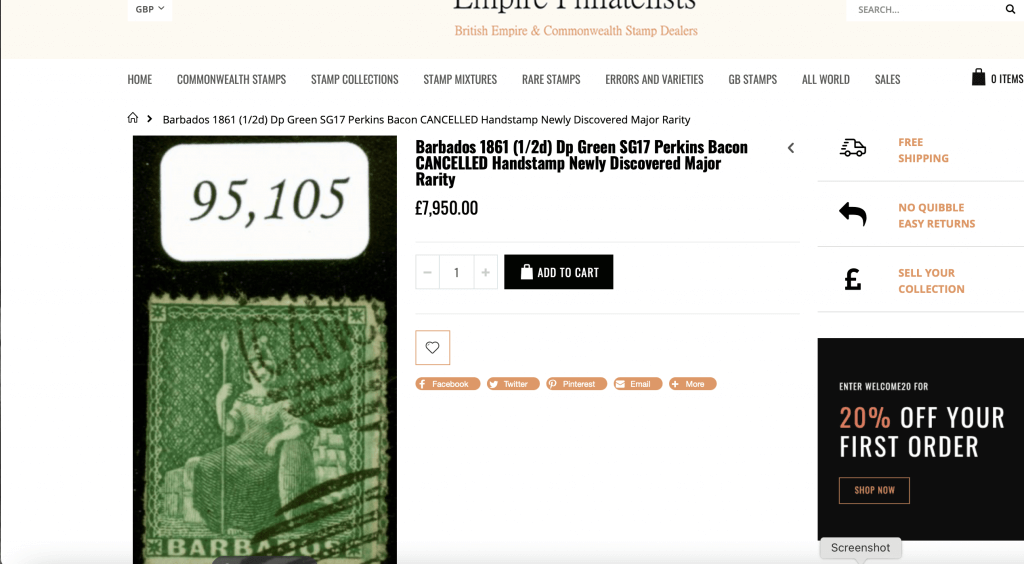 Congratulations to Stuart for such an amazing find and welcome back this missing piece of history.