I've been collecting and specialising in the stamps and postal history of Barbados for over a decade now and it strikes me that there are not many Barbados collectors about.
Sure, there are people here in the UK with an interest in Barbados Stamps, and a few are members of the British West Indies Study Circle, but how many collectors globally, I'm not sure. And I'm definitely not sure about collectors who actually live in Barbados.
I try and get to the island every couple of years or so and would have been there in a couple of months, had it not been for a global pandemic. So this year I'm afraid I can't come and next year, although booked, is still in doubt.
But the good news about collecting stamps is you don't need to be in a certain location to collect the stamps of that area. Right now I can go to a number of online platforms and buy a wide range of material from Barbados and many of the other Caribbean islands. But what I can't find is the sort of stuff a fellow collector would have.
As an example, I'm sat this morning looking at my used Barbados collection and whilst much of it is complete, there are still gaps I can't fill. And they're not expensive. Like this stamp, SG1251, the 5c value from the 2004 FIFA Centenary set. It's a football stamp, so collected by thematic collectors worldwide, it had lots of use on mail around the island, but can I find a used copy for sale? No, I can't. And it's precisely because it's not an expensive stamp that it's hard to find.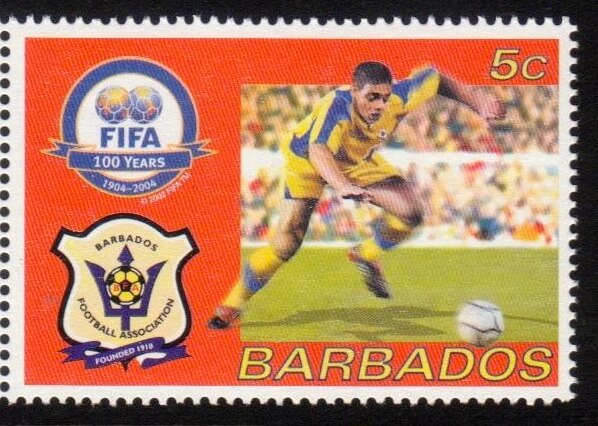 There were lots of them printed, plenty were used and I'm sure that there are thousands sat in spares boxes around the globe. But because it's catalogue value is just 40p, most dealers won't touch it.
Dealers work on the basis that if they sell a stamp for 40p or £400 it's still the same amount of time and effort to process the sale and dispatch the stamp. If they make 30% on the sale its the difference between 12p and £120. I know which I'd rather do if I had to make a living out of it.
Right now, I'm missing a dozen 5c and 10c stamps from the early 2000's which will, I am sure, be sitting as spares in stock books of any Barbados collector on the island. Currently, I'm sure, they get thousands of 65c stamps (local rate) and they probably don't know what to do with them. Anyone outside the island, however, trying to put together a usage display will need covers with 65c stamps on them. One man's throw away is another man's treasure.
And I'm struck by the fact that in ten years of owning this website, I don't think I've ever come across a fellow collector living on the island.
I used to visit Keith Bayley, who was the last remaining stamp dealer in Barbados, but with his passing a few years ago, no one was left to continue the tradition.
I'm also conscious that the Barbados Philatelic Society, once so strong it had its own commemorative set, seems to have disappeared as older members pass away.
So, if there are any fellow collectors of Barbados stamps still living on the island and who would like to correspond with another Barbados stamp-collector here in the UK, feel free to get in touch!