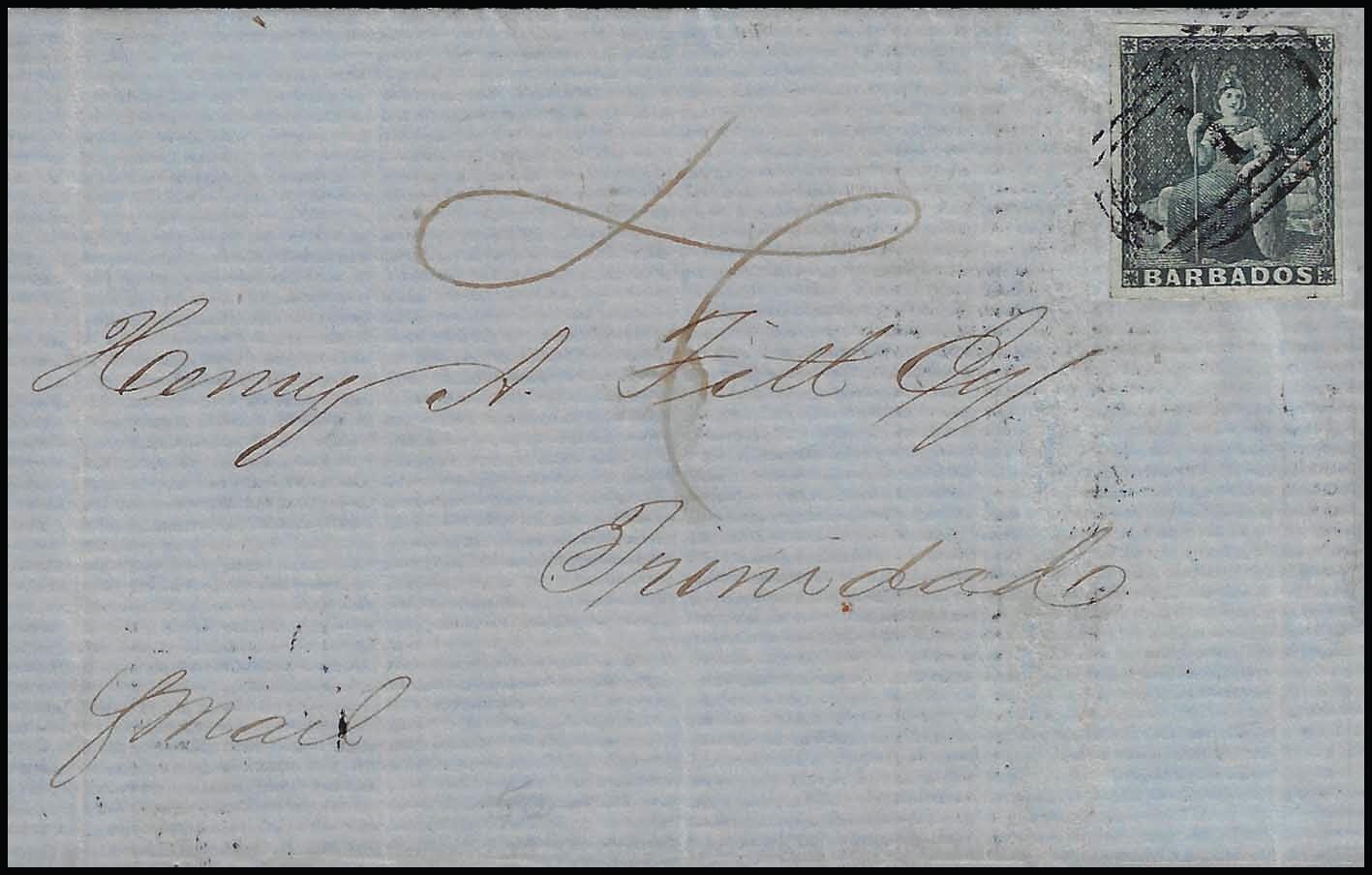 Since its inception, I've tried to make the website the best resource it can be for collectors of Barbados Stamps, but I've never been able to create anything for early Barbados covers. Partly this is because I don't have enough of these covers in my collection but principally it's because there is no way I could begin to catalogue the volume of these covers that are available.
I'm delighted therefore to be able to announce that Peter Ford, in conjunction with the team and members at the British West Indies Study Circle, has created an astonishing new resource listing almost every known early Barbados cover that contains Perkins Bacon printed adhesive stamps.
The archive includes scans of nearly every one of these covers along with a brief description of what the cover is. It deliberately excludes any pre-stamp covers and starting on 1st May 1852 with what must be one of the earliest Barbados covers with an adhesive stamp, it lists and illustrates with scans, over 500 covers up until 17th July 1871. The listing, therefore, includes any covers which carry a Perkins Bacon printing of the Barbados Britannia stamps, as, after 1871, Perkins Bacon were replaced as printers for these stamps by De La Rue.
It's hard to describe just how much of a resource this database is so I suggest you visit the website and view it for yourself. If you've ever wondered about Barbados Stamps used on cover in the mid to late 1800s then this contains everything you need.
Of course, this resource is only made possible by the extraordinary efforts of Peter Ford, who has corralled together the major collectors of these covers and, along with Auction Houses, has managed to obtain details and scans of almost every known cover. The collectors involved include;
Graham Booth FRPSL, Jonathan Guy, Joseph Hackmey RDP FRPSL, Michael Hamiton, Christopher Harman RDP Hon FRPSL, Stefan Heijtz FRPSL, Michael Medlicott FRPSL, Mike Rego, Simon Richards FRPSL, Fitz Roett, Ray Stanton, Richard Stupples and Takashi Yoshida FRPSL.
Take a look at the gallery and if you have a cover in your collection that you think might deserve being included, please get in touch with Peter via the BWISC website.