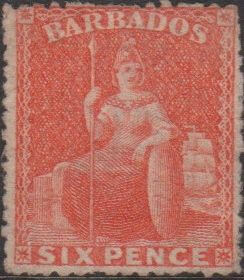 SG46 added to the collection
As with most collections there comes a point where you are simply after the most elusive items, be it stamps, china or train numbers, and with us, it has been SG46.
I had almost given up hope of acquiring this as the catalogue value is now £950 for a mint stamp, and although they can be found for less their rarity makes them a prize worth paying for. In this case, I struck lucky and after a year of looking, and having built up a sizeable reserve, the right stamp was offered at the right price. So here it now is and it's a lovely example with a fresh clean colour and appearance and considering this was a rough perf stamp from 1870, good perfs all round.
A better view of it can be seen on the gallery page.