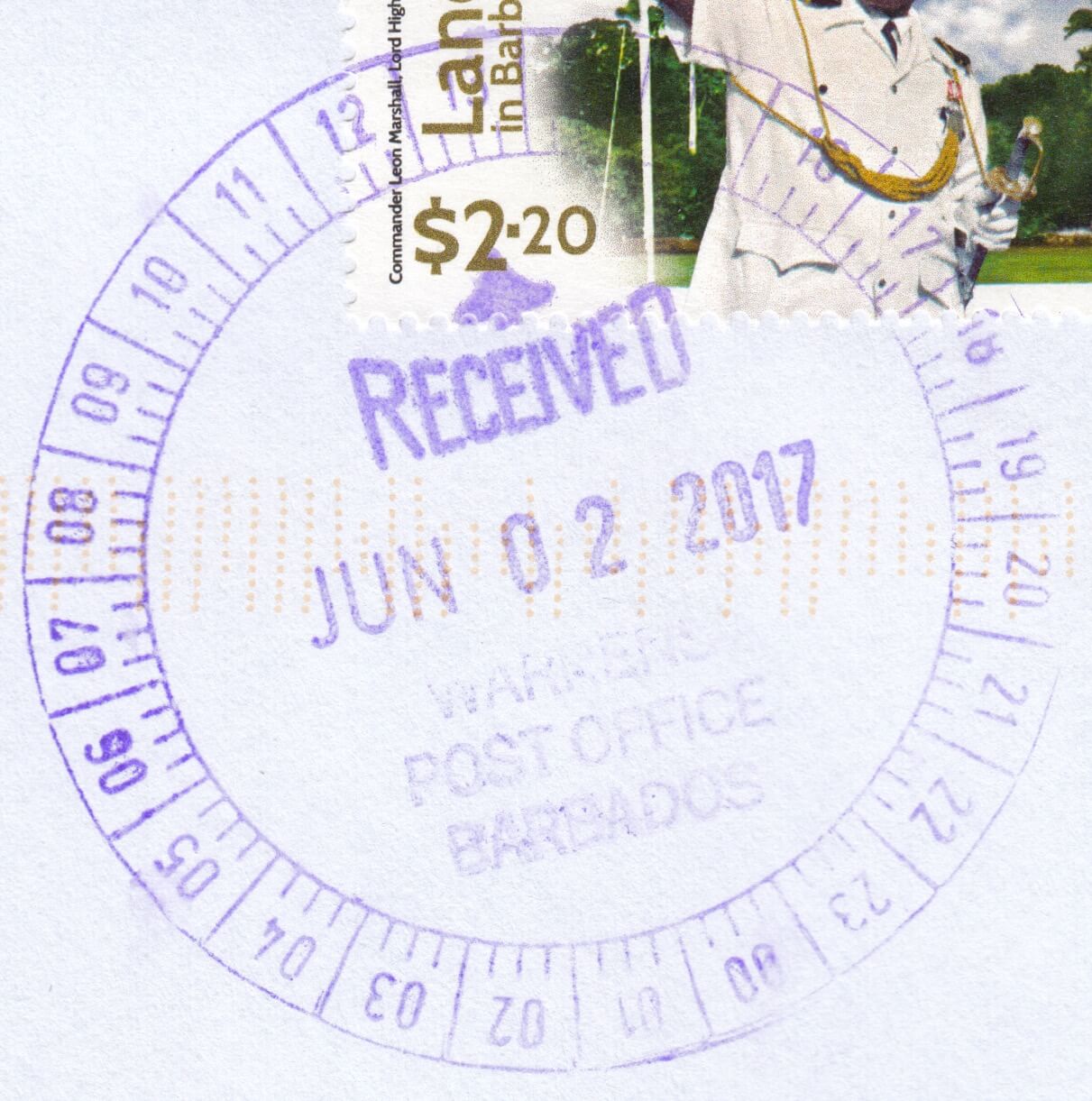 Ok, so it's not exactly 'new' but I was astonished to find out that there was a Post Office in Warrens.
Back in 2014 when I did my tour of all the Post Offices in Barbados I was convinced that I had visited every single one. I was working from what I believed to be the 'definitive list' of all Barbados Post Offices, taken from the Post Office website and on that list, there were eighteen post offices. In fact, there still are today (July 2017).
I discounted The Bridgetown Cruise Terminal as I was told that all mail from there was simply taken to the main office in Bridgetown for cancellation and so my tour, and subsequent blog, featured just seventeen Barbados post offices.
Whilst standing in the philatelic bureau this year I was chatting about my 'grand tour' of all seventeen when someone piped up with the fact that there are actually nineteen Post Office on Barbados.
What!?
I knew that I'd missed out the cruise terminal but surely there couldn't' be another one?
It got worse. Not only was there a separate office and canceller for the cruise terminal which I'd previously missed (more on that later) but I had also missed the office at Warrens.
How was this possible? How could I have gone past an entire Post Office and missed its very existence?
The answer was that I wasn't going mad; the Warrens office had opened on June 2nd 2014 but my 'Grand Tour' had taken place on 26th and 27th May 2014, so I'd missed the opening by a week!
Armed with this new found knowledge I was determined to go and find this 'missing' Post Office.
Now, every Post Office in Barbados is marked with a clear sign featuring the BPS red logo on a white background, followed by the name of the office in big, black letters. So how hard could this be to find?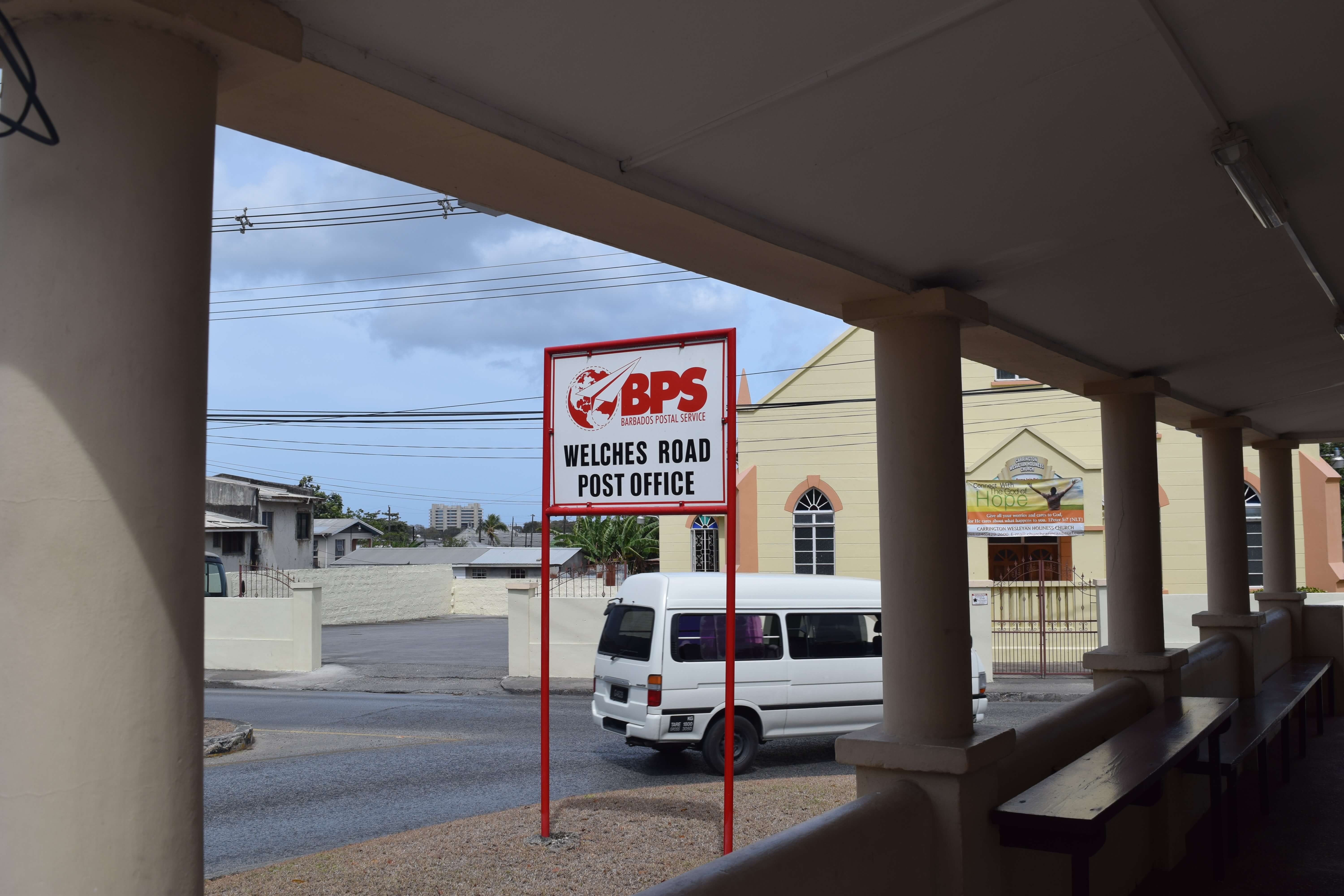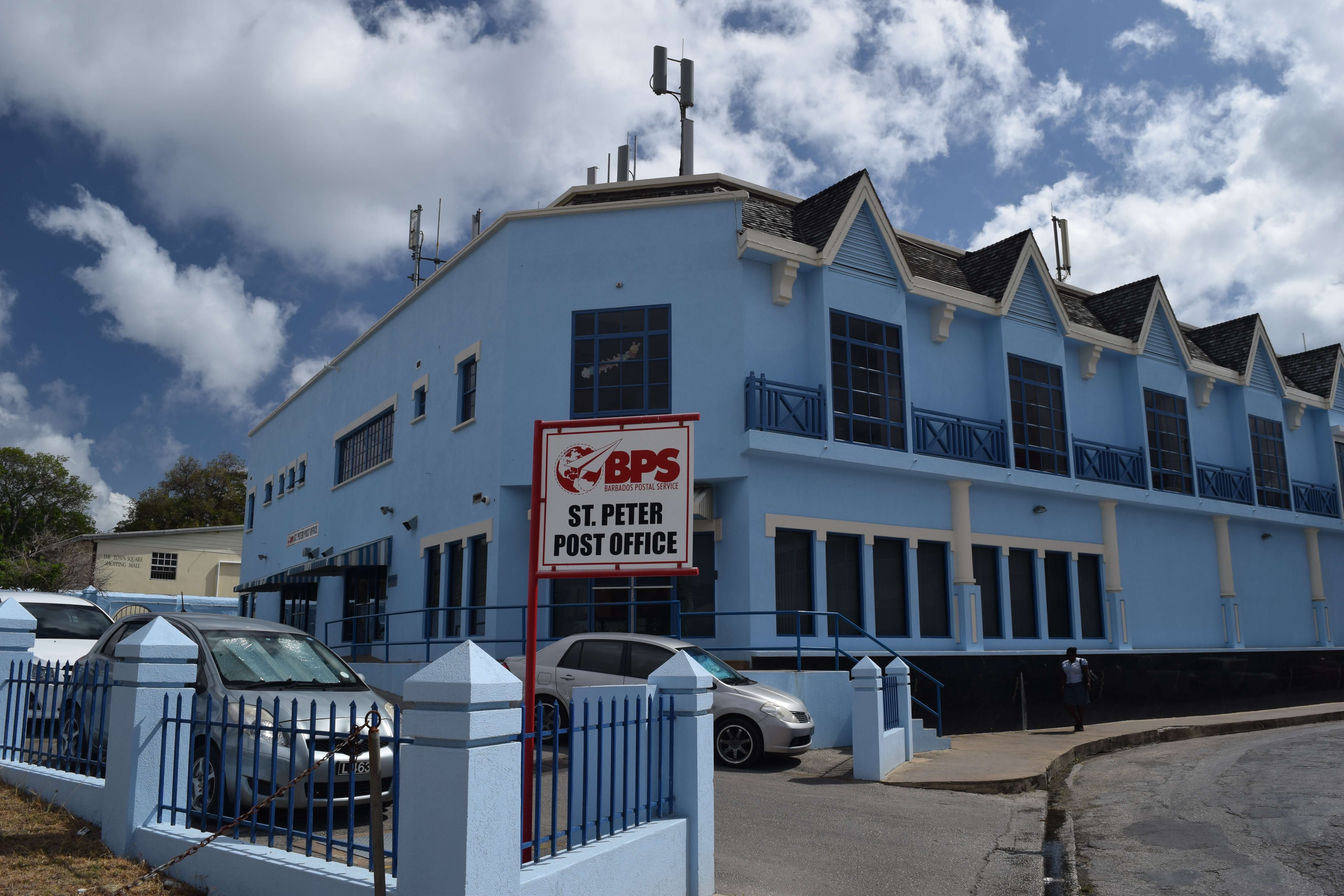 The answer was, quite tricky.
First of all, there are no signs. Secondly, there's no online presence so there's no way of establishing exactly where it is. And finally, I was simply told that it was in Warrens Tower 2. And as a tourist, where was I going to look for Tower 2?
The answer, as it turned out, was to ask the lovely staff in the Bureau who told me it was behind KFC, so armed with this I set off to find it.
I won't lie, I did manage to miss it the first time. Principally because there is a one-way system behind KFC and I wasn't sure which building it was in. With no sign outside it really was guesswork but using a little bit of logic I guessed that the word 'tower' in the title might give me clue.
And so it proved. It's inside the biggest building in the area!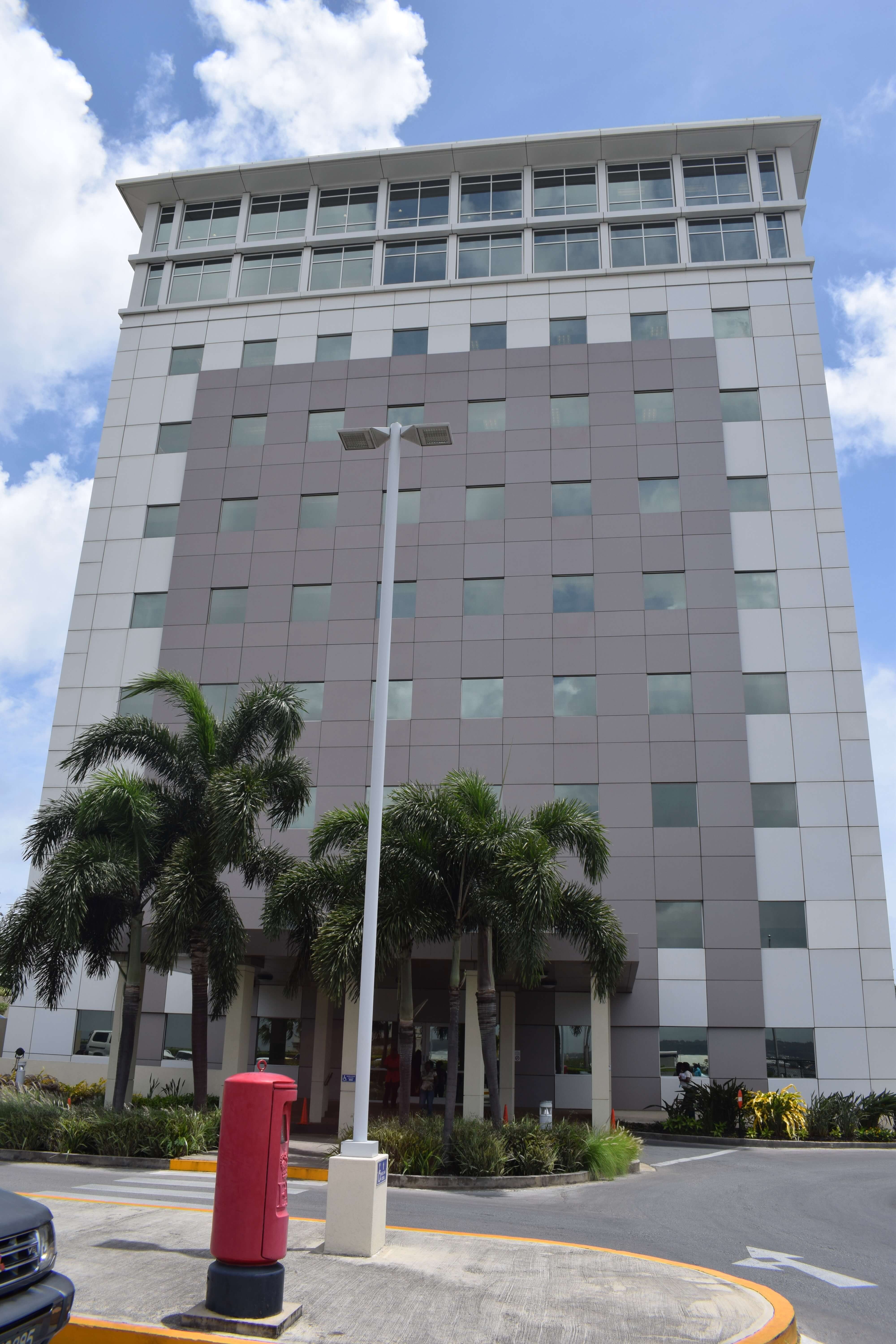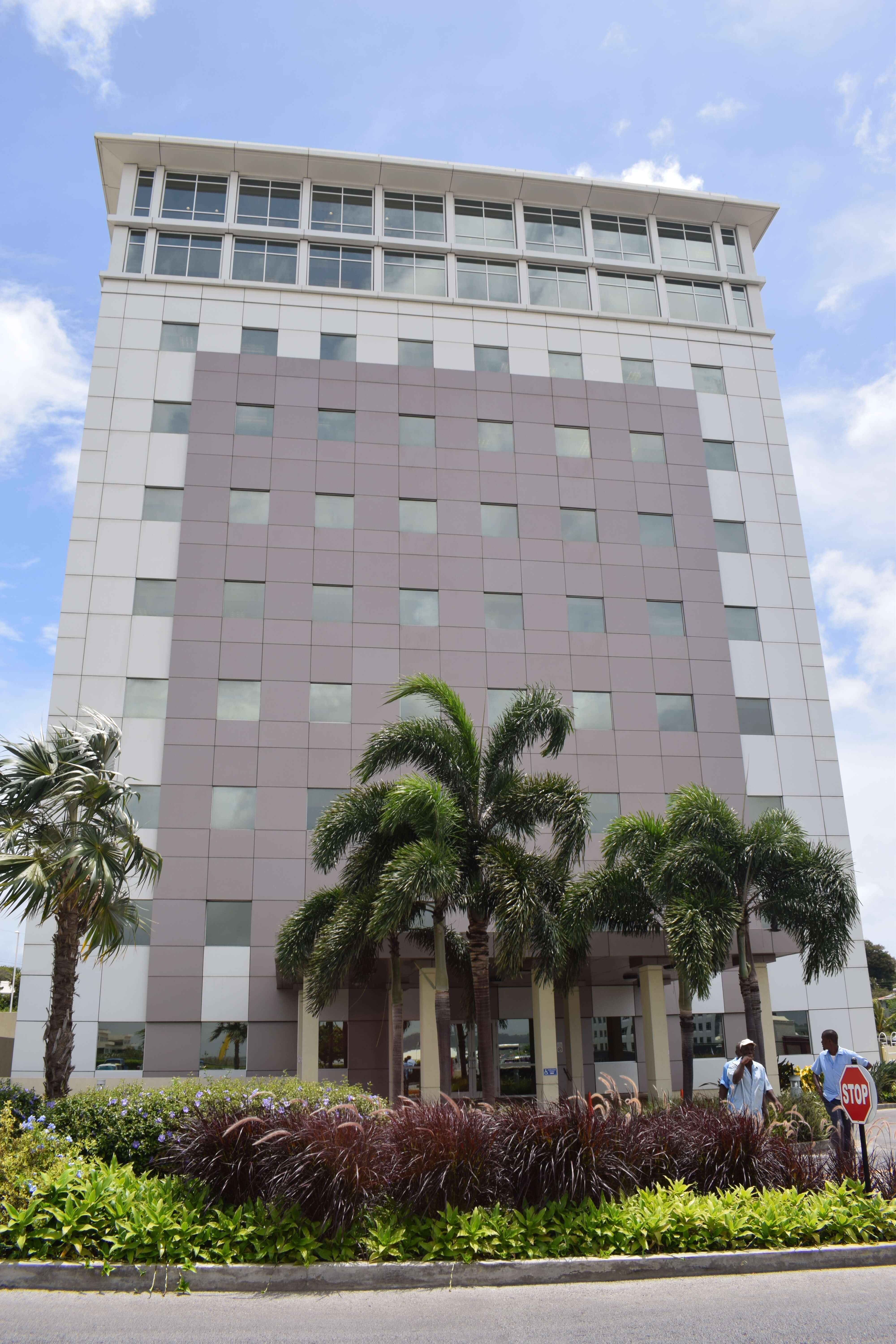 If you are looking for it and have a sat nav or mobile then sticking these coordinates into Google will mean you are delivered to the front door;
13.140813, -59.611862
Once inside the tower and past the security guards the Post Office is on your right-hand side.
The office itself is clean and air conditioned and the staff there were lovely, humouring a mad English postmark collector!
I posted a couple of Registered Letters back to myself and send some letters; some from inside and some from the post box outside to see if we got a different cancel and sure enough, we did. Here is the outside Post Box;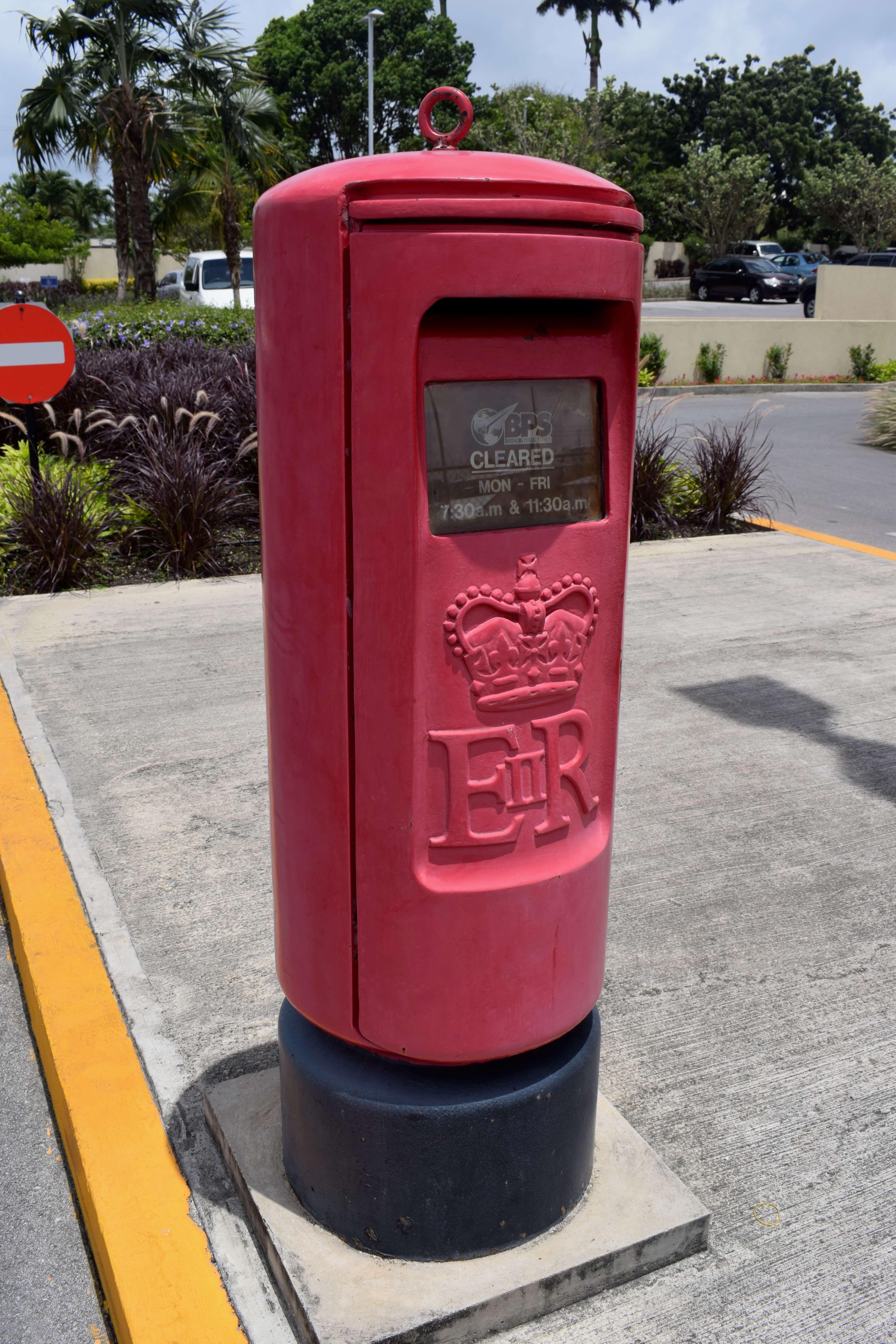 The resulting cancels need to be added to the catalogue of available Barbados cancels and the following are what I received on the mail I sent;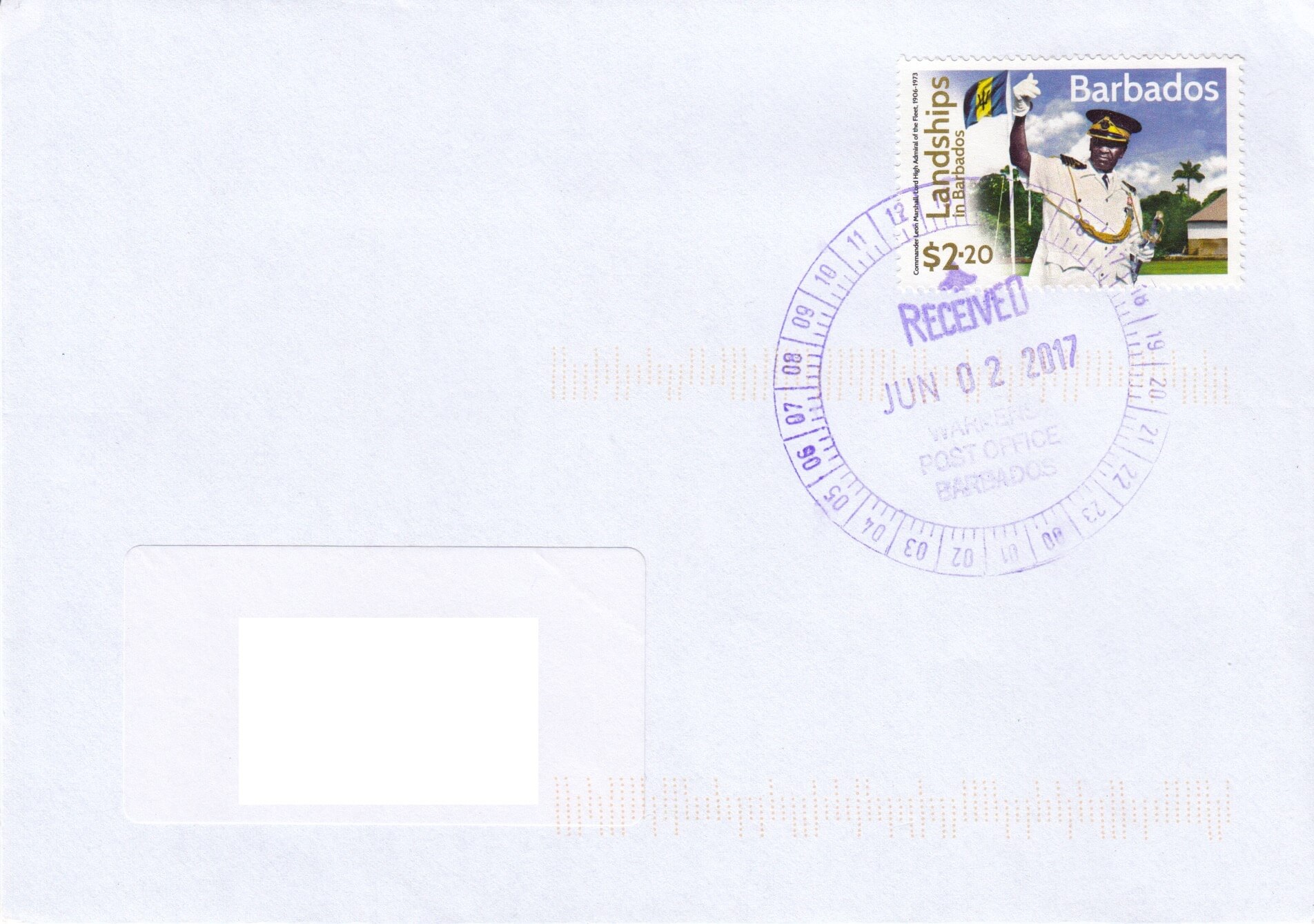 The cover shows a really nice clear circular 'clock' cancel which you get if you post the envelope in the box outside the Post Office.
Here's a close up of the cancel;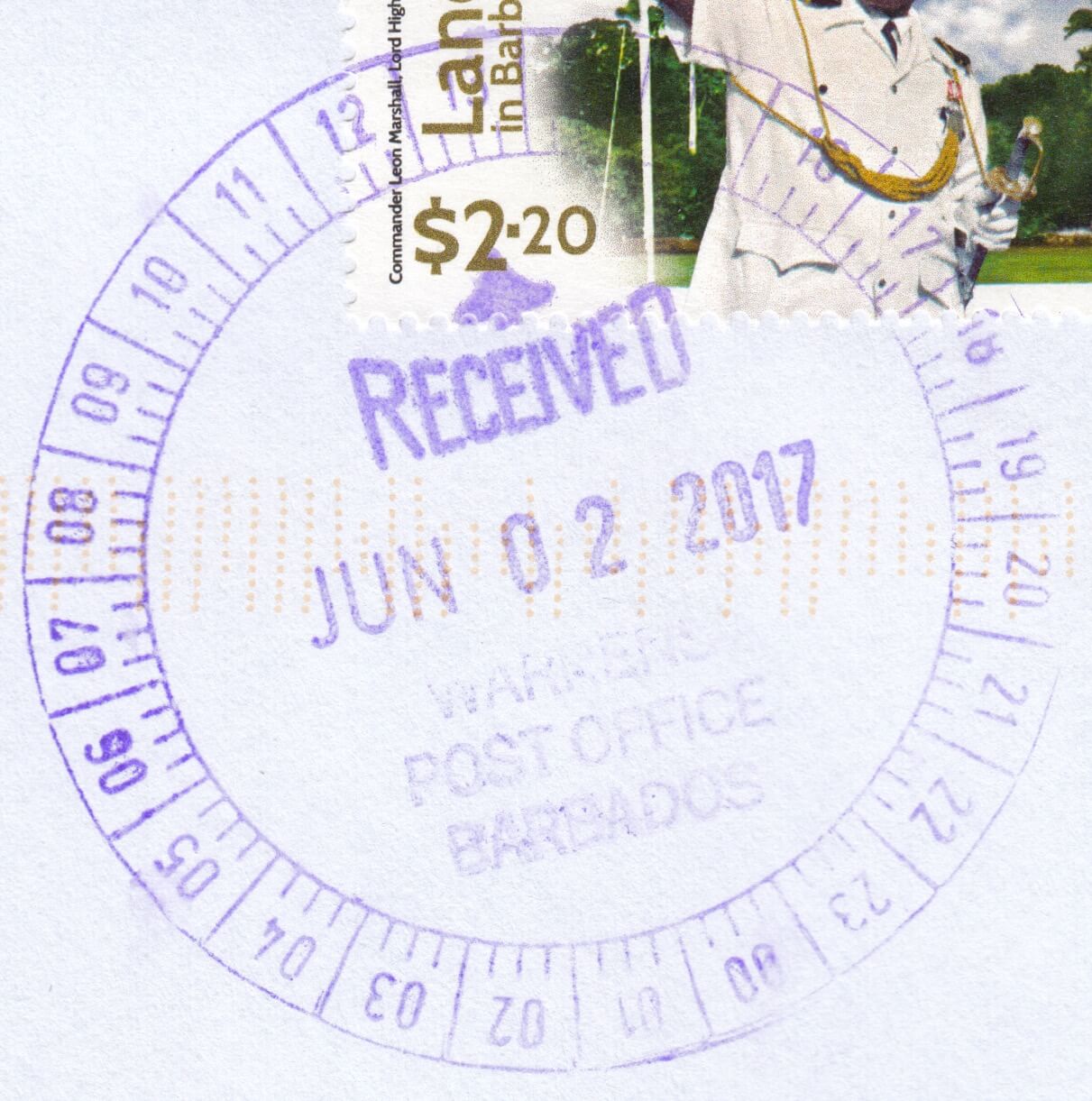 If however you choose to post something inside and ask for a counter cancel you get this;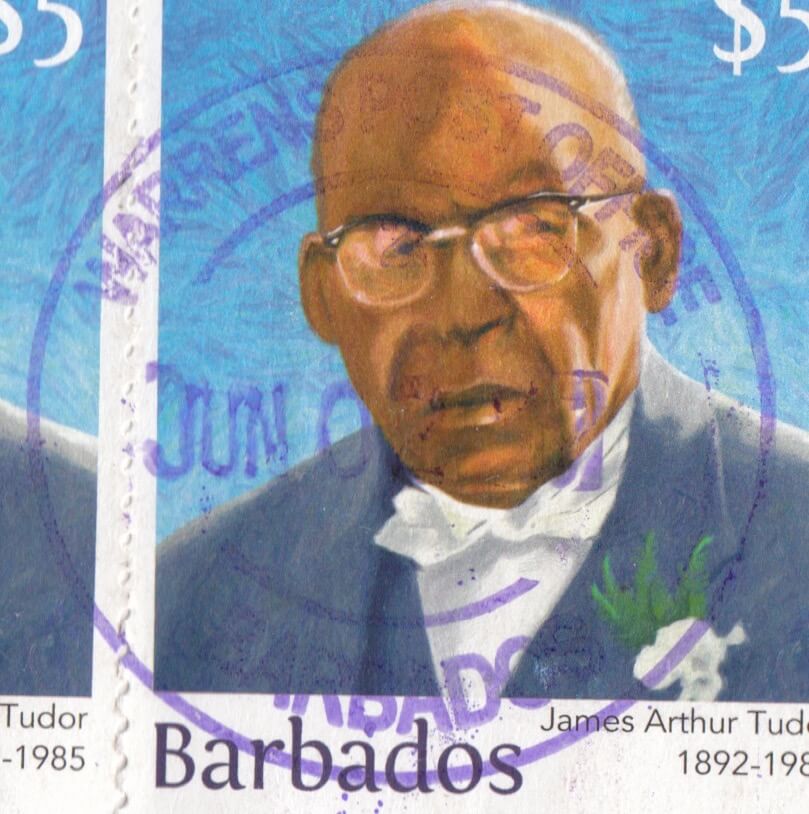 The cancel was part of a Registered letter I sent back to myself which looks like this;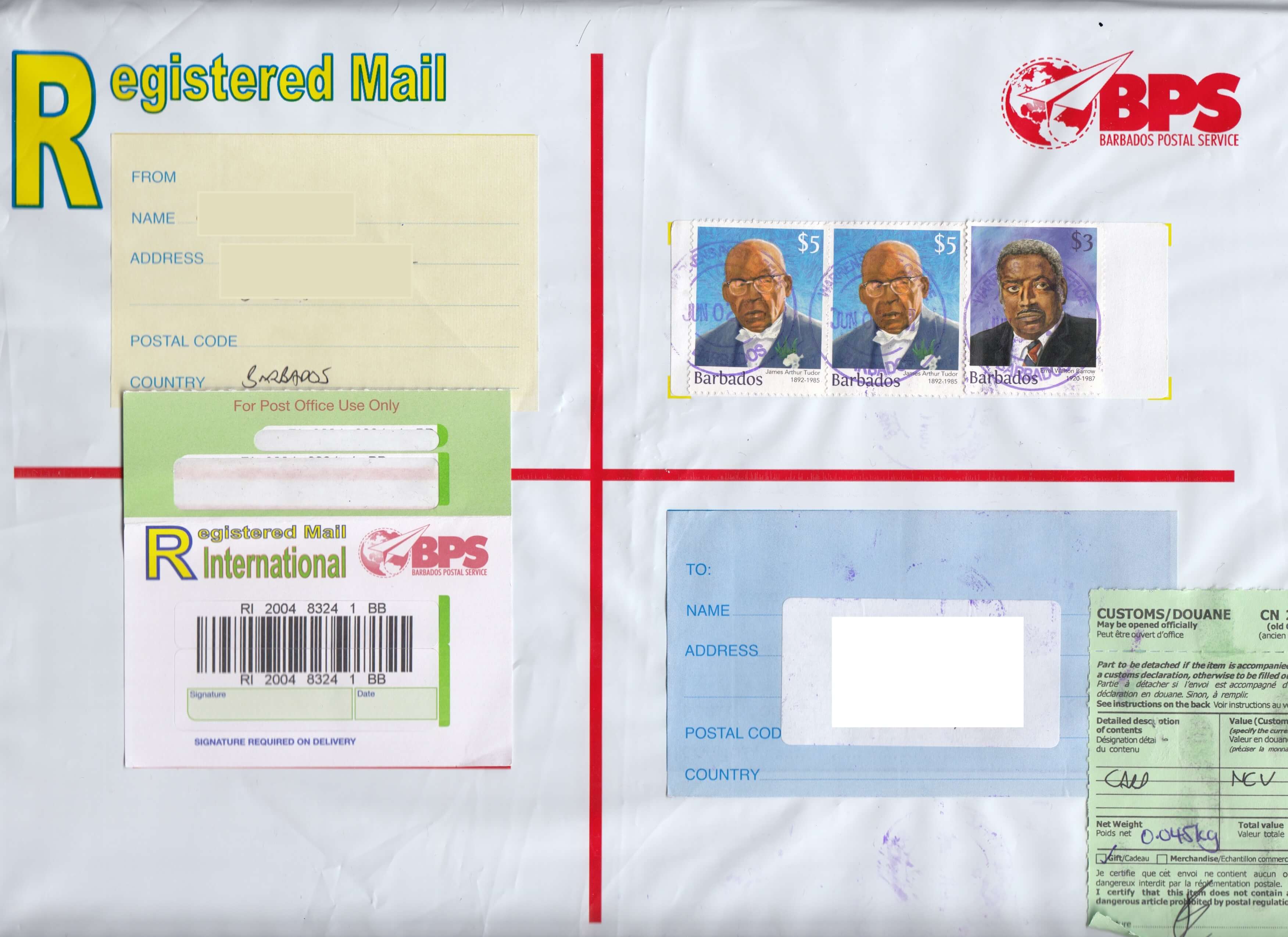 By a strange coincidence, whilst sorting some postmarks on my return to the UK, I came across an envelope with a nice St Lucy cancel on it. I was about to file it away and I realised that there was something inside the envelope. When I looked inside, imagine my surprise to see this;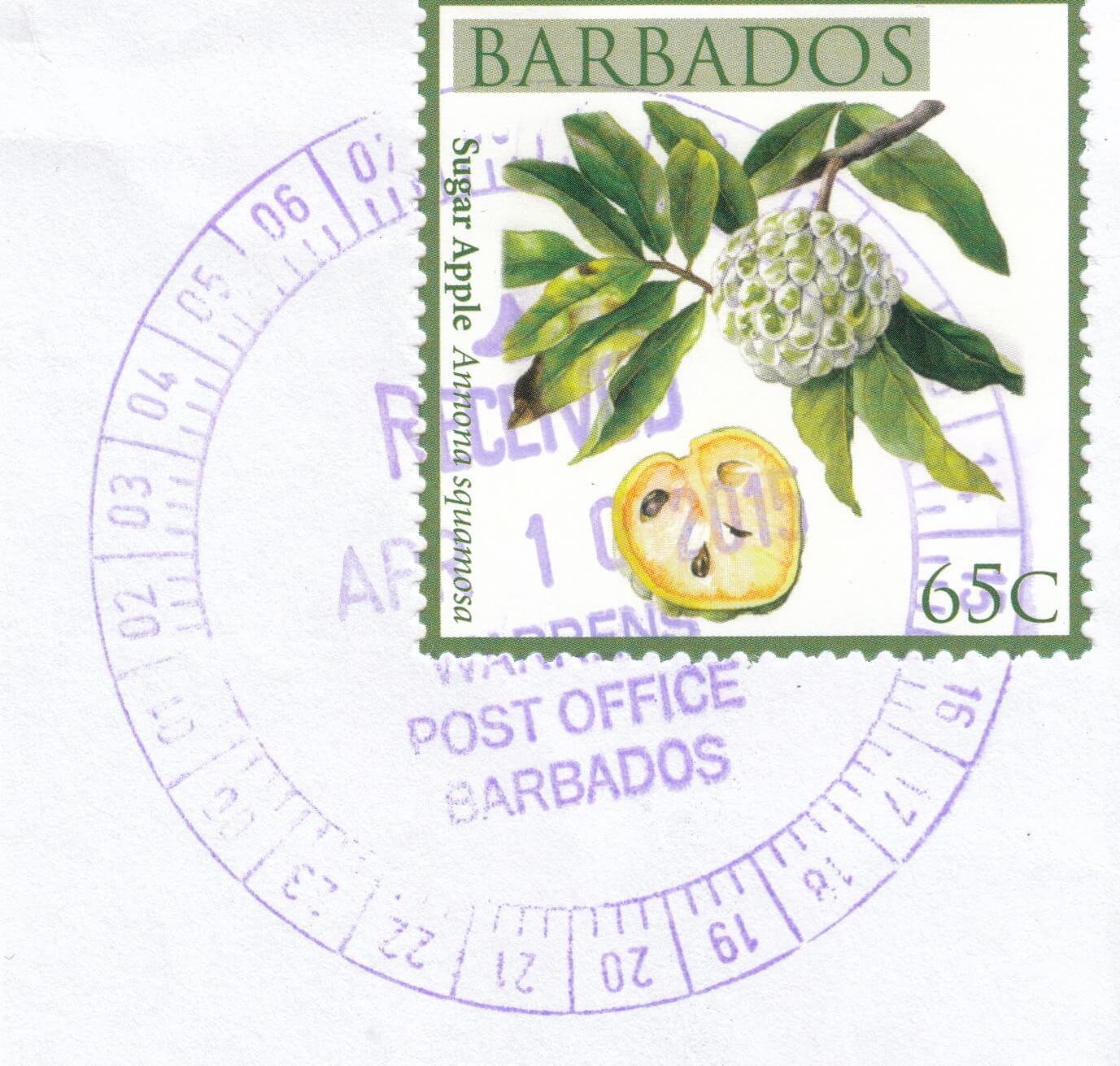 It seems that all along I had a really nice Warrens cancel sitting in my collection, I just didn't know it!
Anyway, if you are travelling around Barbados and go through Warrens the tower is really easy to find (and even easier with the coordinates above) and there's free parking right outside. Once inside the staff will be lovely I'm sure as they were when I was there.
So, no longer a mystery missing Post Office. It's there, hidden in plain sight and if you collect Barbados postmarks you should go and visit.