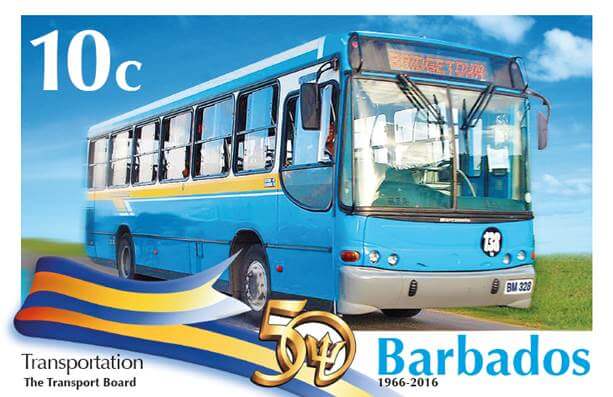 After much excitement from us and I'm sure a number of other Barbados stamp collectors, the long awaited 50th Anniversary on Independence stamps have been released today, 18th November 2016.
The set contains just six stamps and a mini sheet and the official notice from the Philatelic Bureau reads as follows;
Special Edition Jubilee Stamps
2016. A landmark year in Barbados' history as we recognise 50 years of Independence with a signature collection of Commemorative stamps, released on Friday, November 18. This Golden Jubilee Commemorative Stamp Issue pays honour to Barbados on the 50th Anniversary of Independence.
Drawing inspiration from whence we came, the issue produced by the Barbados Postal Service features a Set of six stamps, a Souvenir Sheet, a First Day Cover and a Souvenir Sheet First Day Cover. The selected themes depict the growth and development  of this island's development, and the  progress made over the past fifty (50) years in the following areas:
Transportation
Education
Manufacturing
Sports
Agriculture
Tourism
The Souvenir Sheet takes us back to the night of November 30th, 1966  featuring Errol Walton Barrow PC, QC, First Prime Minister of Barbados, Independence Night 1966. 
Hope you enjoy this issue as much as we enjoyed working on it.
This issue has been a long time in the planning and delivers a really nice set of stamps which are bright, colourful and do a really good job of promoting the island of Barbados and recognising the development in a number of areas. We are sure they will be well-received by both the public in Barbados and the wider global community as well.
Here are the very first images of the stamps;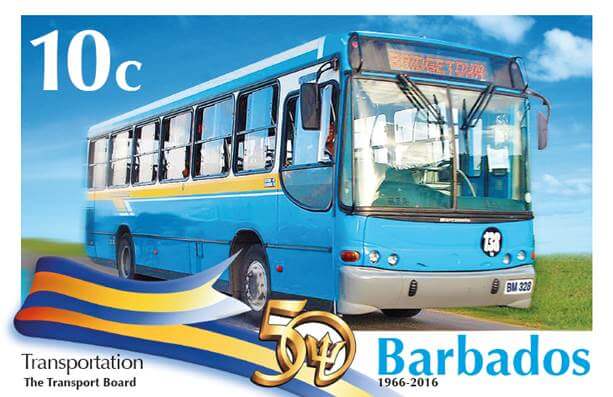 Barbados Stamps 50th Anniversary of Independence 10c stamp – Transportation
This shows a typical Barbados 'blue bus' which provides the backbone of the transportation on the island. These workhorses are never far away wherever you are and can be a welcome sight to the hot and thirsty traveller! At just $2 no matter how far you travel these are cheap, reliable and a model for other countries.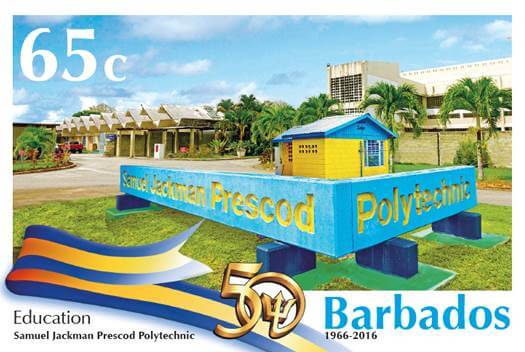 Barbados Stamps 50th Anniversary of Independence 65c stamp – Education
Not the first time the Samuel Jackman Prescod school has featured on a Barbados stamp, this inland letter rate stamp is perfect as it epitomises the education system in Barbados. They take a pride in turning out intelligent, literate and polite students and if you've ever visited the island you will know how this manifests itself.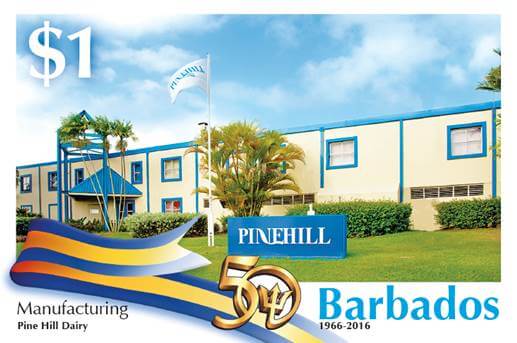 Barbados Stamps 50th Anniversary of Independence $1.00 stamp – Manufacturing
Celebrating manufacturing on the island we have a $1 stamp featuring the Pinehill Dairy, responsible for all the milk and dairy products on the island. This moves on the stereotypical view that the island is all about rum or sugar and reminds us that there are a lot of other manufacturing enterprises on Barbados in 2016.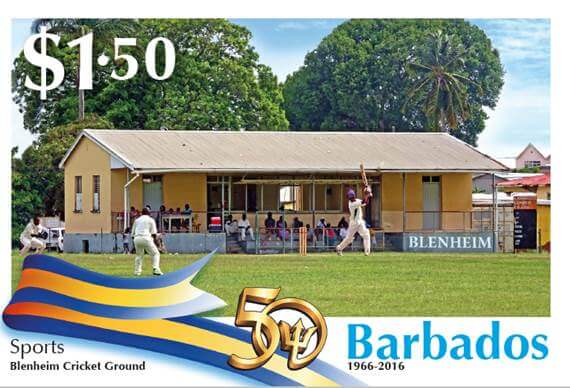 Barbados Stamps 50th Anniversary of Independence $1.50 stamp – Sports
A proud sporting nation with strong cricket and football teams as well as individual track and field athletes, this $1.50 stamp shows a typical game of cricket under a beautiful blue Barbados sky.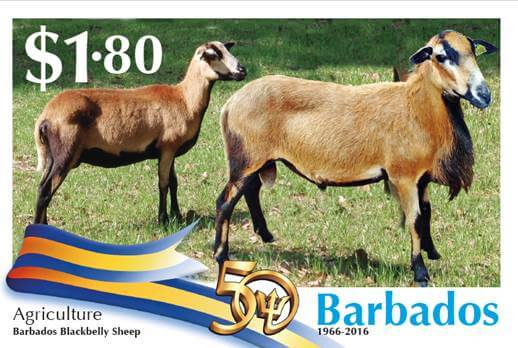 Barbados Stamps 50th Anniversary of Independence $1.80 stamp – Agriculture
The ubiquitous black bellied sheep feature on the $1.80 agriculture stamp and again, not the first time these characters have been on a Barbados stamp. Agriculture employs around 10% of the workers on the island and is a major contributor to the economy.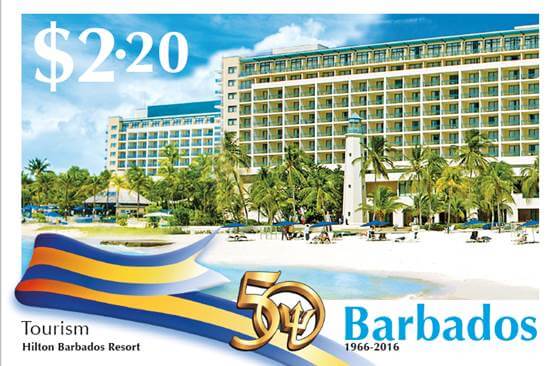 Barbados Stamps 50th Anniversary of Independence $2.20 stamp – Tourism
The single biggest money earning industry for Barbados, Tourism is the lifeblood of the island today and is well represented by this $2.20 stamp which pays the current overseas (Europe and Rest of the World) rate and will be used most on postcards home this year.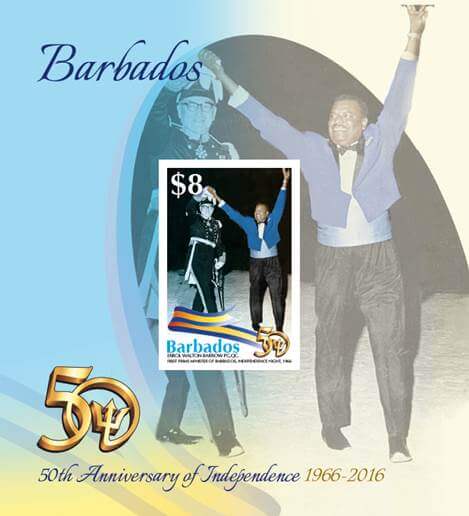 Barbados Stamps 50th Anniversary of Independence $8.00 mini sheet – Errol Walton Barrow celebrating Independence in 1966
Finally, a fabulous mini sheet which sums up the excitement felt on the island back in 1966 when they gained Independence. It depicts Errol Walton Barrow, the first Prime Minister, celebrating on Independence night, 30th November 1966.
This whole set is a lovely tribute to the island and its people and is a fitting testament to the progression and change seen over the last 50 years. Here's to a bright and prosperous future for everyone on Barbados.