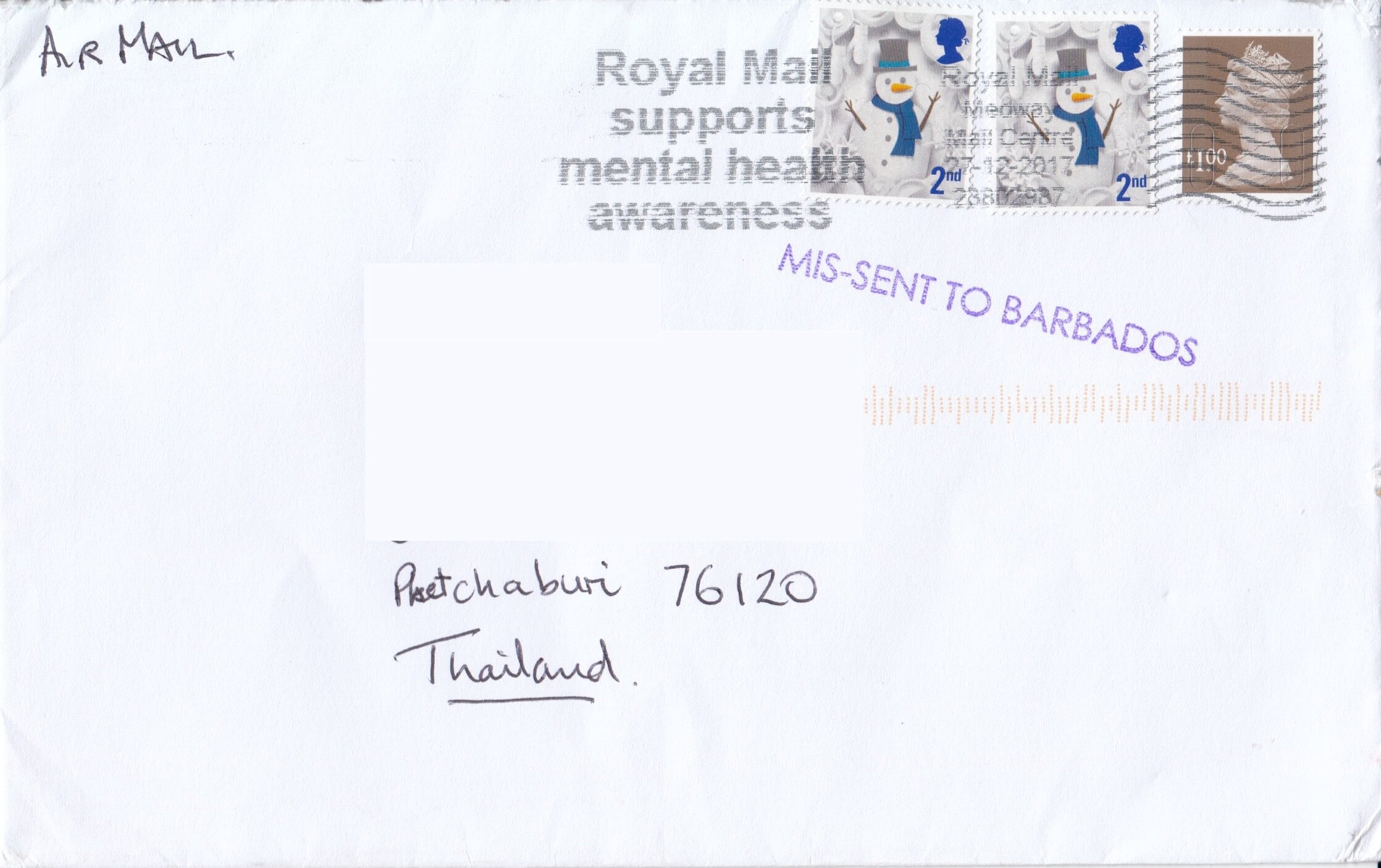 I was contacted recently through the website contact form by a gentleman in Thailand who had received a Christmas card from the U.K.  Nothing special about that, except for the fact that the cover had been to Barbados!
On its travels it appears that someone had mistaken the word Thailand for Trinidad and the card had arrived in Bridgetown. When it arrived it was recognised as being in the wrong place and received an instructional marking of "mis-sent to Barbados"
This marking is quite unusual for a number of reasons.
Firstly, it is unusual to see instructional markings on international mail in these modern times as much of it passes unrecorded through the system.
Secondly, with mail volumes decreasing every year it's very unusual to come across a cover like this with a clear instructional marking.
And finally, it's unusual in that I have never seen this particular marking before.
The "bible" of postal markings for Barbados is Clarke, Radford and Cave "Barbados Post Office Markings to 1981" but, as the name tells us, this was published in 1981. The last mis sent marking it lists is one which reads "missent" without the hyphen. On that basis, therefore, this marking appears unrecorded although it is possible that it has been seen before and one currently languishes in a collection somewhere. To the best of my knowledge, this marking hasn't been seen or recorded anywhere before.
Looking again at the cover we can see two second class "snowmen" stamps from the 2017 U.K. Christmas issue along with a £1 gold machin giving a rate of £2.12 in postage. As the prevailing rate at the time of posting was £1.40 then it appears overpaid. It seems that the sender simply used up whatever stamps were available at the time.
I'm extremely grateful to the recipient of this card for getting in touch with me and allowing me to add this cover to both the record of Barbados instructional markings and my collection.
If you receive a piece of mail with anything Barbados related on it then please get in touch and let me know?