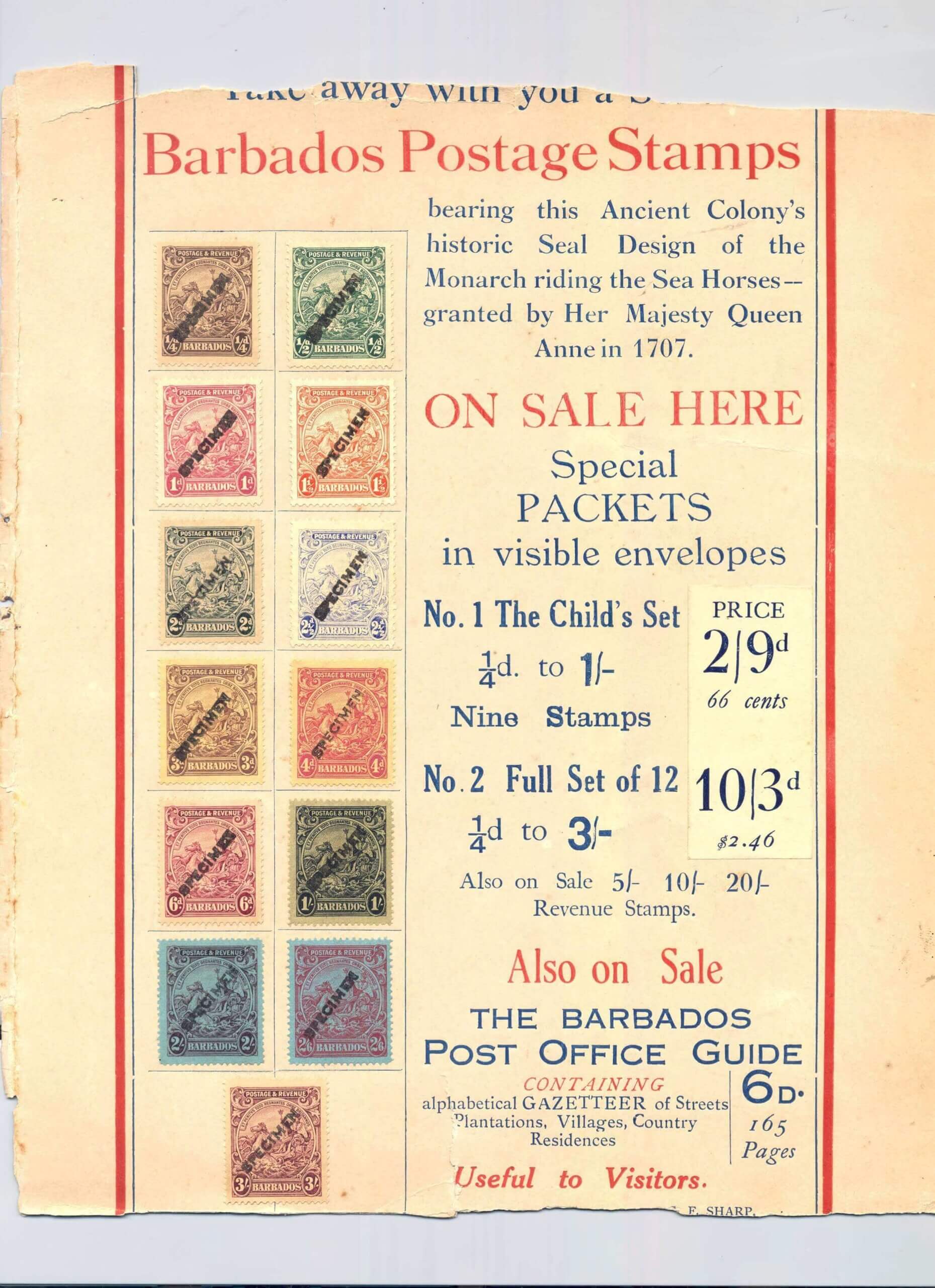 Whilst on the island earlier this year I was fortunate enough to spend some time in the Philatelic Bureau.
The team there kindly offered to let me look through some of the material they have to hand in the archives.
Oh my, what a treasure trove!
They still retain specimen books from the 1930's with all the UPU specimens included for all the relevant countries and these are an amazing original resource.
As a snapshot in time, they show what these stamps looked like at the time they were issued by the UPU and moreover, what the staff did in the 1930's to keep them safe.
The books also included a huge range of locally hand stamped items from the 1950's and 1960's, much of which, when you see advertised for sale on the open market, goes for extraordinary prices.
The 'piece de resistance' for me however was tucked inside the first page of the first album. It was this glorious item;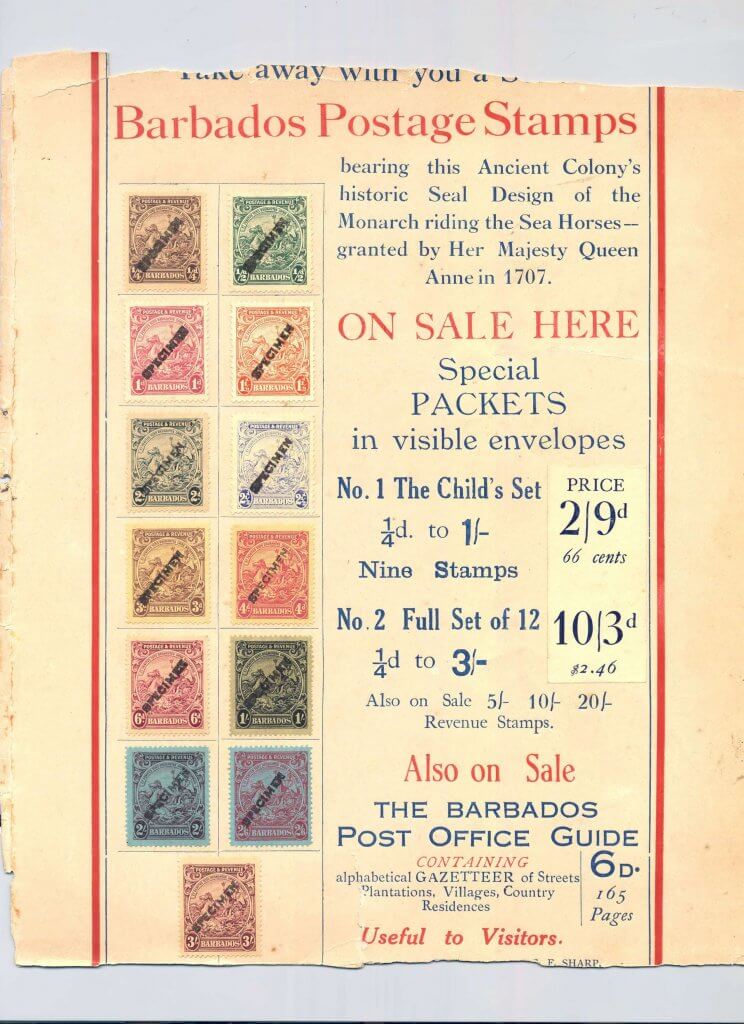 Sitting happily amongst the pages of specimen stamps was this page, clearly torn from somewhere, containing a full specimen set of the 'Postage & Revenue' set issued between 1925-35.
The piece itself raises a number of questions, such as;
Where did it come from?
Where was it used?
Who overprinted the stamps as specimens and how was this accounted from?
Who decided the pricing and how?
To try and unpick some of these we are going to have to make some guesses.
First of all, where it came from,
It appears to have been bound on the left hand side and as the top and bottom are ripped, perhaps bound or glued there as well.
No one in the Bureau seemed to know where this had come from but one suggestion was that it was an old advertising poster designed to encourage people to collect these stamps.
If so, it may well have been used in the GPO in Bridgetown and the pricing perhaps gives a clue to this.
Barbados went decimal in the 1950's so it's clearly from before this time as it is priced in Pounds, shillings and pence.
The stamps are also denominated as such and the best guess would be that this is a contemporaneous piece to the other archives, which would place it around 1933/34.
What confused me for a while was the decimal pricing of Dollars and Cents underneath the headline prices. I couldn't reconcile how this could be so when decimalisation was twenty years in the future.
I'm hugely grateful therefore to fellow BWISC members, who at a recent weekend meeting offered the suggestion that this was priced in American dollars and cents and targeted at the American tourist market.
From the early 1900's, regular steamship travel had been established between Barbados and other parts of the world, bringing a steady inflow of tourists to the island.  Logically therefore, given that the locals would simply buy the stamps if they wanted them, this must have been created to meet a tourist need.
Ironically, today these specimen hand-stamped sets, if you can even find them for sale, go for much higher prices than a full mint or used set of the same stamps.
The accounting is an interesting area as well given that the Post Office would have to account for every stamp sold.
A full set, at face value, totals 136¼d , which is 11/4 ¼d (eleven shillings, four pence and a farthing), yet the whole set was priced to sell at 10/3d, a discounted rate of 1/1¼d. So who authorised this, when and why? There must be a record somewhere but not one I've seen.
The specimen cancel however is recorded in Bayley's book 'The Stamps of Barbados' and on p237 he says;
"Type BAR 3 – this 'SPECIMEN" hand stamp was used by the local Post Office to deface stamps which were used for display purposes. The letters of TYPE BAR3 measure 2mm high and 19mm long and this hand stamp was known to have been in use in November 1933″
Which places our display card firmly in the right timeframe of 1933/34.
From this, we can probably conclude that this was a display piece, it was designed to sell stamps to tourists and as a further hint to this purpose we only have to look at the bottom of the notice to see that it offers 'The Barbados Post Office Guide – containing alphabetical GAZETTEER of streets, plantations, villages, country residences." Moreover it announces that it is 'Useful to Visitors'!
So, if you see a set of these for sale anywhere, please let us know as it would be nice to match up a set, sold to the tourist market, with this amazing piece of Barbados philatelic History.