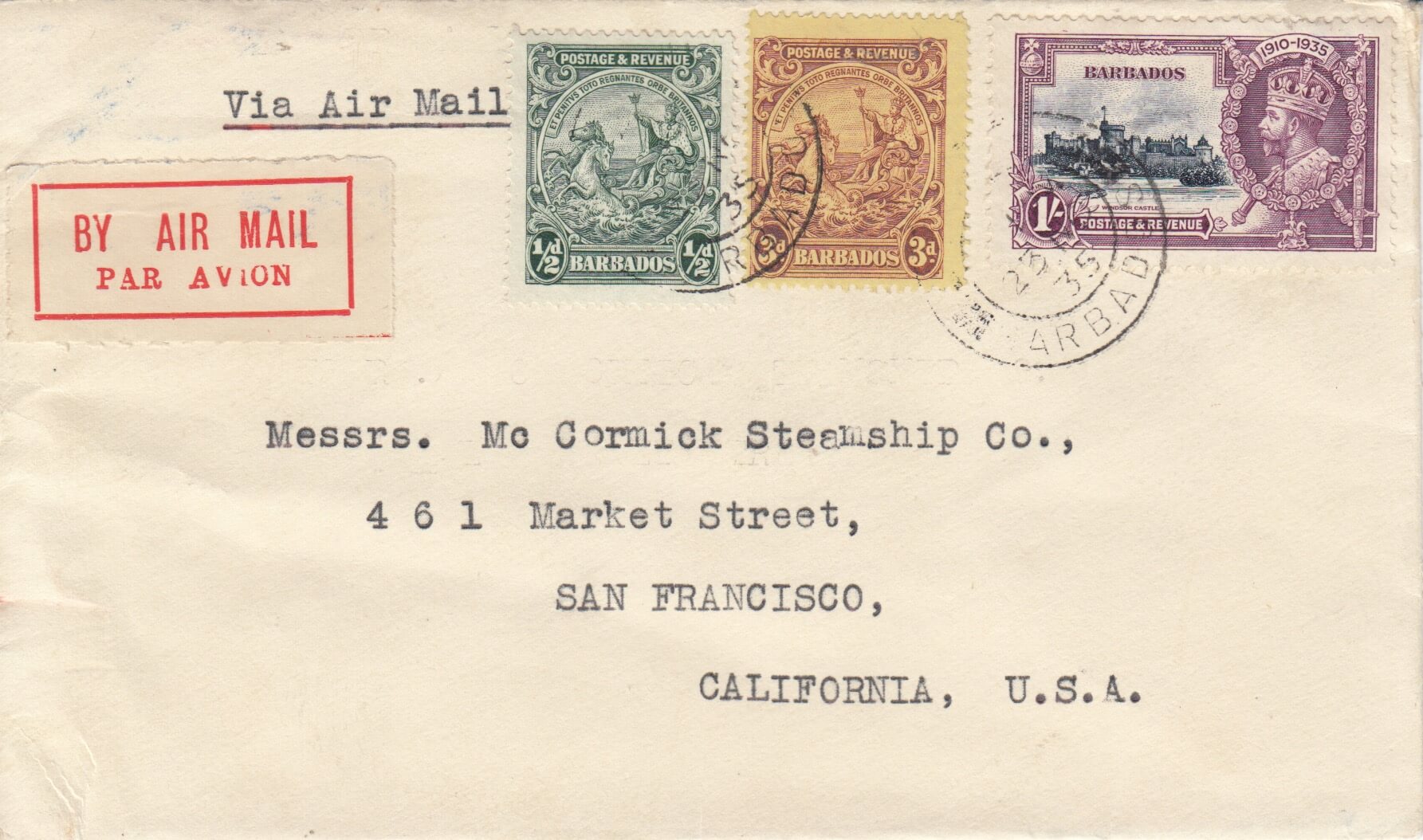 One of the challenges of collecting postal history is trying to figure out the rates and routes that a cover took.
There are lots of resources to help and having referred to most of them I must confess to being stuck with this one.
The cover contains a 1/- Silver Jubilee stamp tied with additional 3d and ½d stamps from the 'Postage & Revenue' definitives from the period, making up a rate of 1/3½d. It is cancelled 25th November 1935 and was sent, via Airmail, to Messrs McCormick Steamship Company, 461 Market Street, San Francisco, California. 
Looking back into the British West Indies Study Circle (BWISC) archives I can see that there was a question asked in 2001 entitled "Air Mail 'window' envelope at 1/3½d rate" (186/64) which was subsequently answered by Edmund Bayley (188/6), however the answer given does not match with what we see on this cover.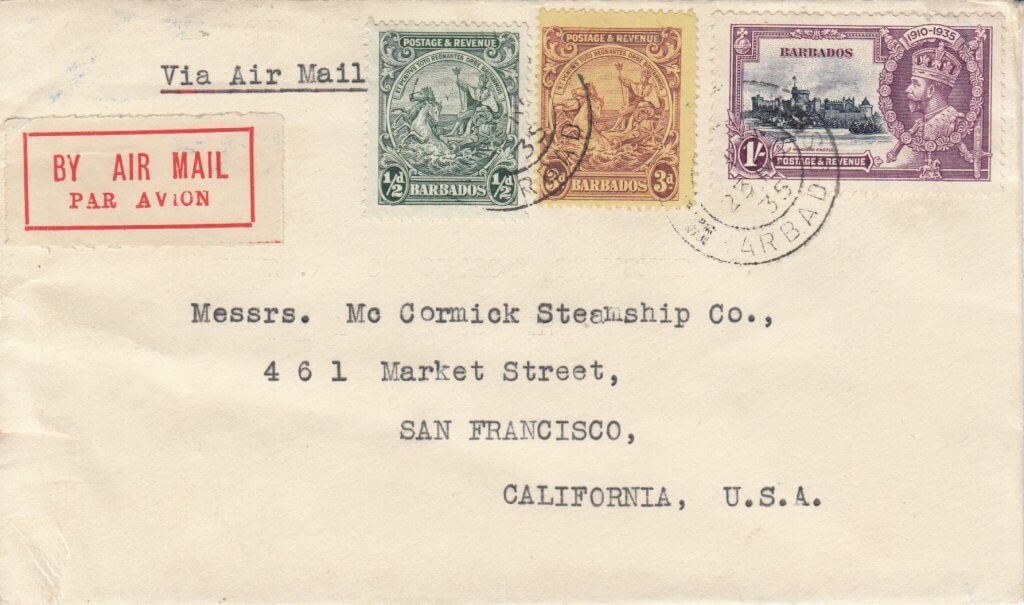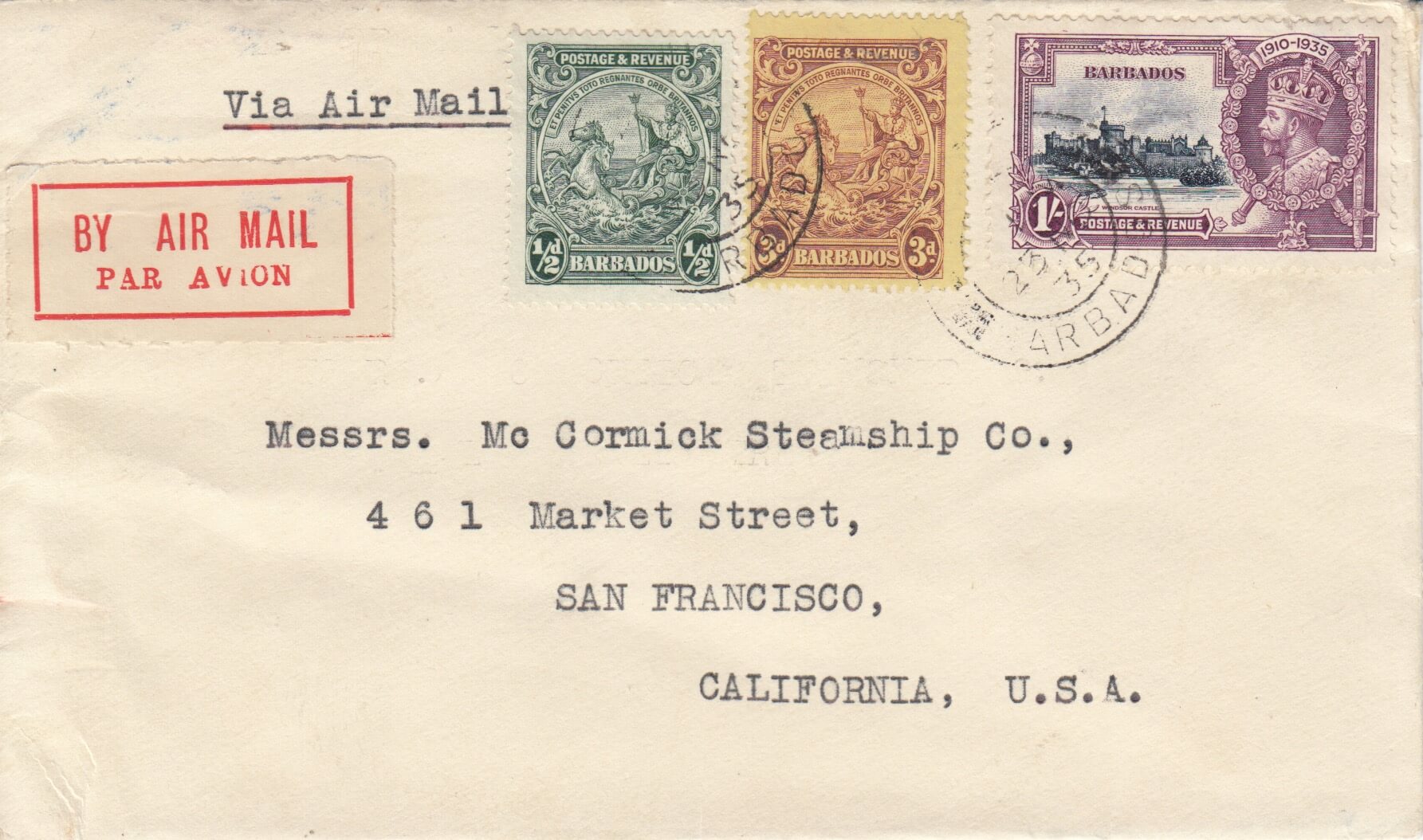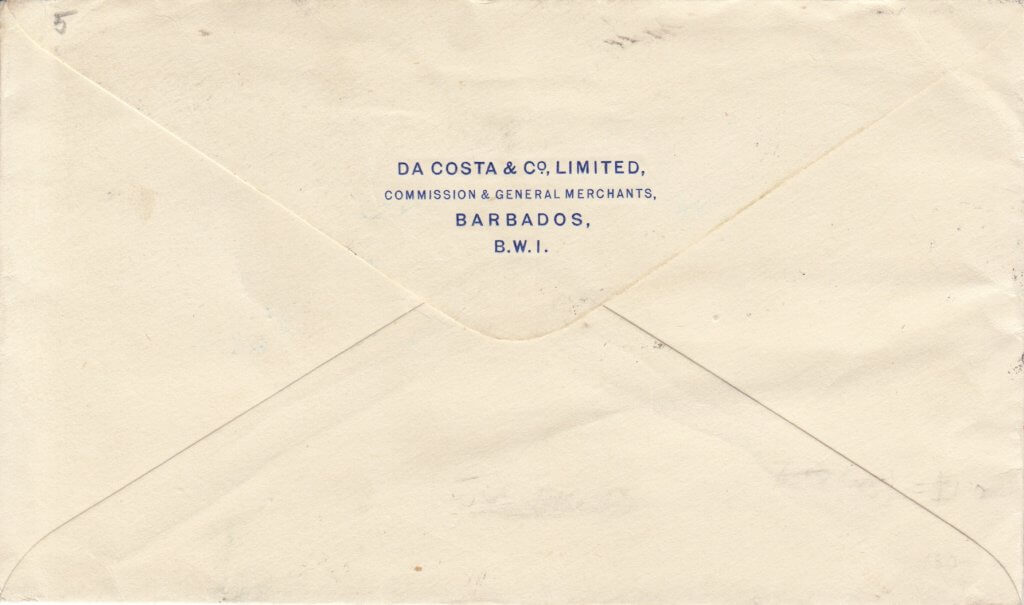 The original query was about a window envelope, dated "MY 10 35", where there was no evidence of the address, and the conclusion arrived at by Edmund Bayley was that the most likely destination, based on the Air Mail rates at the time, was Venezuela. 
This was narrowed down from a full list of possible suspects, including (1) Canal Zone; (2) Curacao; (3) Dutch Guiana; (4) Ecuador; (5) French Guiana; (6) Panama; and (7) Venezuela.
This cover however, dated "23 NO 35", has clearly gone to San Francisco, yet the rate is a full 1d short of the November 1932 rate for Airmail to USA at that time (1/4½d on Scale A) and 2d short on the 'Par' scale.*
Bayley, in his article, refers to a 1933 update to the rates but I cannot find any reference to this rate update in any of the literature, which brings us to the dilemma.
If the rate was supposed to be 1d more than this, how did the cover get through the system?
A couple of possibilities present themselves but I'm still unsure.
Option one could be that the cover is underpaid, however I have discounted that on the basis that the cover appears to be hand cancelled which suggests it was cancelled at the time of posting. A discrepancy in postage would most likely have been picked up.
Bayley notes that the Air Mail rates were amended as from August 1 1933 due to the fluctuation of the American Currency with sterling, and this is further explained by Proud who shows the November 1932 rates table with four different options, to cover different exchange rate fluctuations. None of these rates matches the rate on this cover.
From 1920 onwards, the USD to GBP exchange rate appears quite volatile and one could speculate that it 'might' be possible there was a notice sent to the Post Offices, amending the existing rates, which has not yet come to light. Or, perhaps, there was a local agreement that the rate had changed?
Is it perhaps possible that as Bayley refers to a 1933 update, but Proud only notes the 1932 rates table, that there were further updates to the rates subsequent to 1933 of which neither author was aware?
The third option, suggested by the previous owner, is that perhaps this could be the 1½d surface rate to Jamaica and the balance for double the half ounce airmail fee of 7d to the USA?
I would be extremely grateful if anyone reading this could either share covers with the same rate and/or help offer an explanation as to how this cover paid the correct rate from Barbados to San Francisco in 1935?
Definitely one for the aerophilatelists out there. Can you help solve this dilemma?
*Proud E.B – The Postal History of Barbados & Grenada, p100