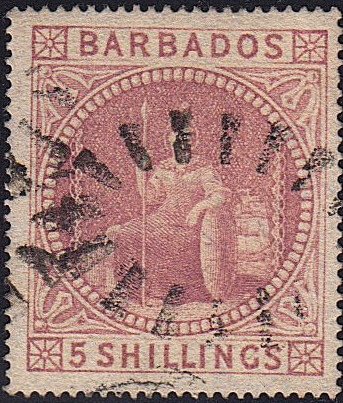 The Barbados 5/- stamp from 1873 is both a key and iconic stamp for any Barbados collection. Whether you are trying to fill an Imperial Album or simply collection the country, this stamp is one which is a must have.
Finding the stamp is not that difficult; a quick search of a number of the online auction sites will turn up examples, but finding one that is well centred is quite another matter.
No matter how hard you look, most of the examples both mint and used, are wildly off centre. This one, however, is a bit of an exception.
This one is centred slightly to the right but is well away from the margins and although Britannia has part of a bootheel obscuring her face the stamp looks rather nice, considering that it is now over 130 years old. Don't you wish that you could look this good after that length of time!
With poor examples of this stamp regularly fetching £80-£100 against a catalogue value of £300 for a used example, this one is definitely going into the collection as it arrived at something of a bargain price.
Not every day is as good as this for adding to the collection but time and patience work well when you specialise in one country.