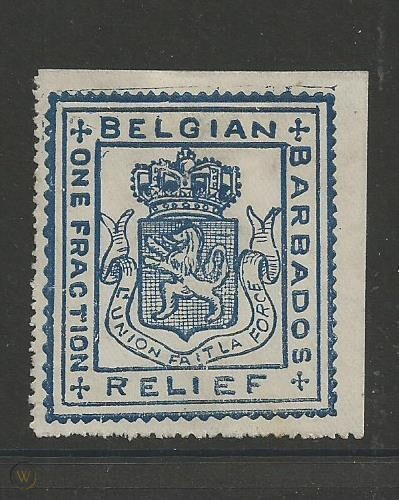 During World War One, a significant number of Commonwealth countries decided that they would rise to the call from the Belgian Foreign Minister, and raise funds to help Belgian refugees. Subject to privations in their own country following the invasion by Germany, the people of Belgian were destitute and many other countries sought to help them.
Amongst those answering the call was a small committee, set up in Barbados, composing nine influential businessmen who thought that the citizens of Barbados could help. To this end, they arranged for the printing of a special label, which could be bought in sheets and then affixed to letters and postcards, the sales of which would provide funds for the Belgians. The label, seen in figure 1 below, was printed locally and having been purchased, people put them on letters and cards.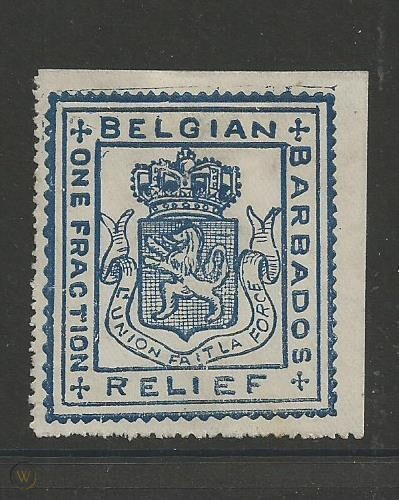 The occurred, we believe, sometime in 1914, however, in the intervening 100 years, much of the story has been lost.
Part of the reason that nothing has appeared on this blog since the story about Barbados Gullies in April is that I, along with a colleague, have been researching these labels for an article due to appear in the British West Indies Study Circle bulletin sometime later this year. In it, we raise several questions which don't appear to have been answered anywhere in previous literature and we make an appeal to anyone who knows anything about these labels to help us improve the knowledge base.
As an example, no one seems to know who printed these labels, how many were in a sheet, who perforated them, where they were sold, and how much money was raised for the Belgians? We also don't have any idea how many postcards and covers still exist bearing these labels and the best count we've managed to get to is just six, though doubtless more exist.
Here's one of the covers that we know still exists (figure 2), bearing this label (figure 3) as well as the normal postage stamp.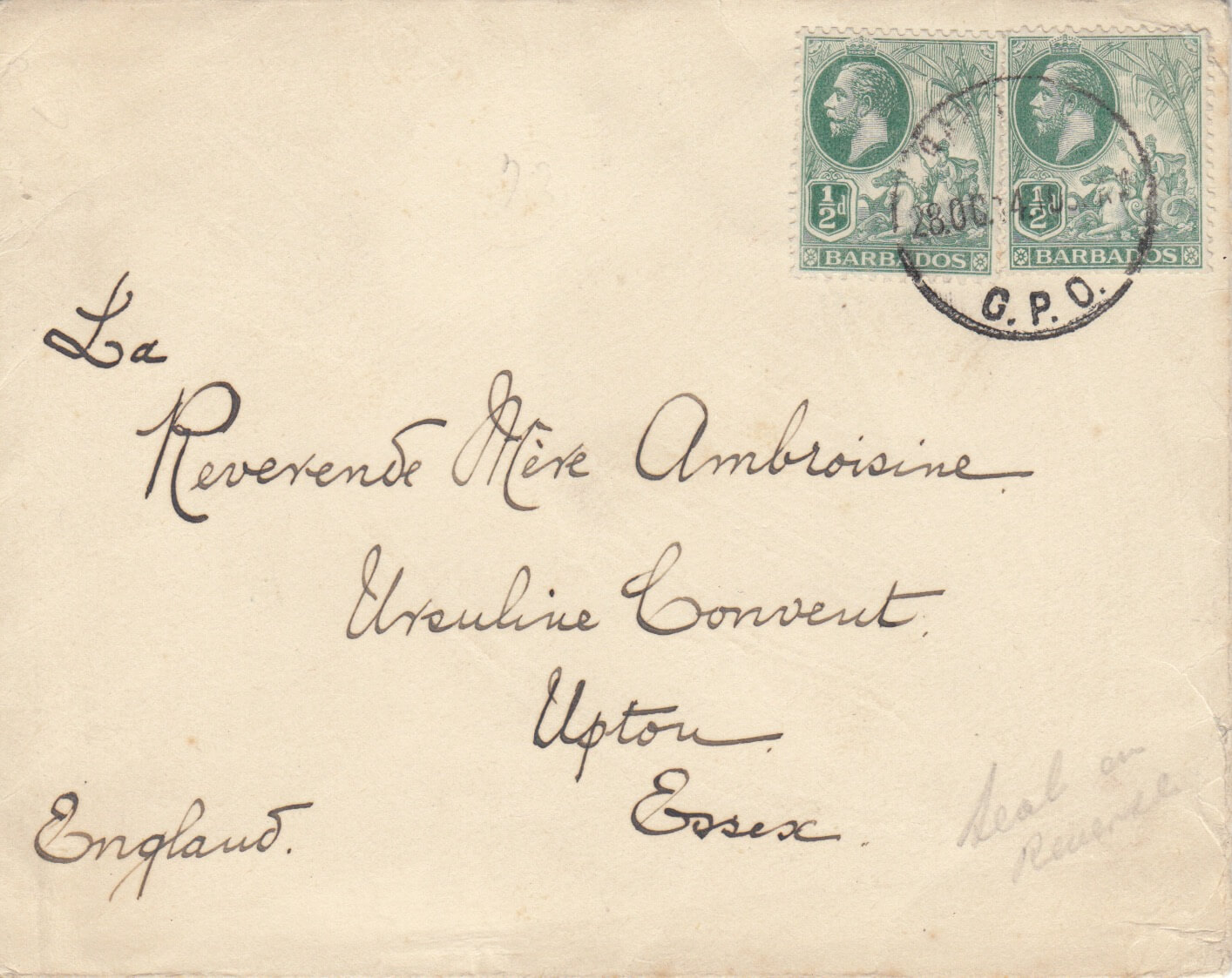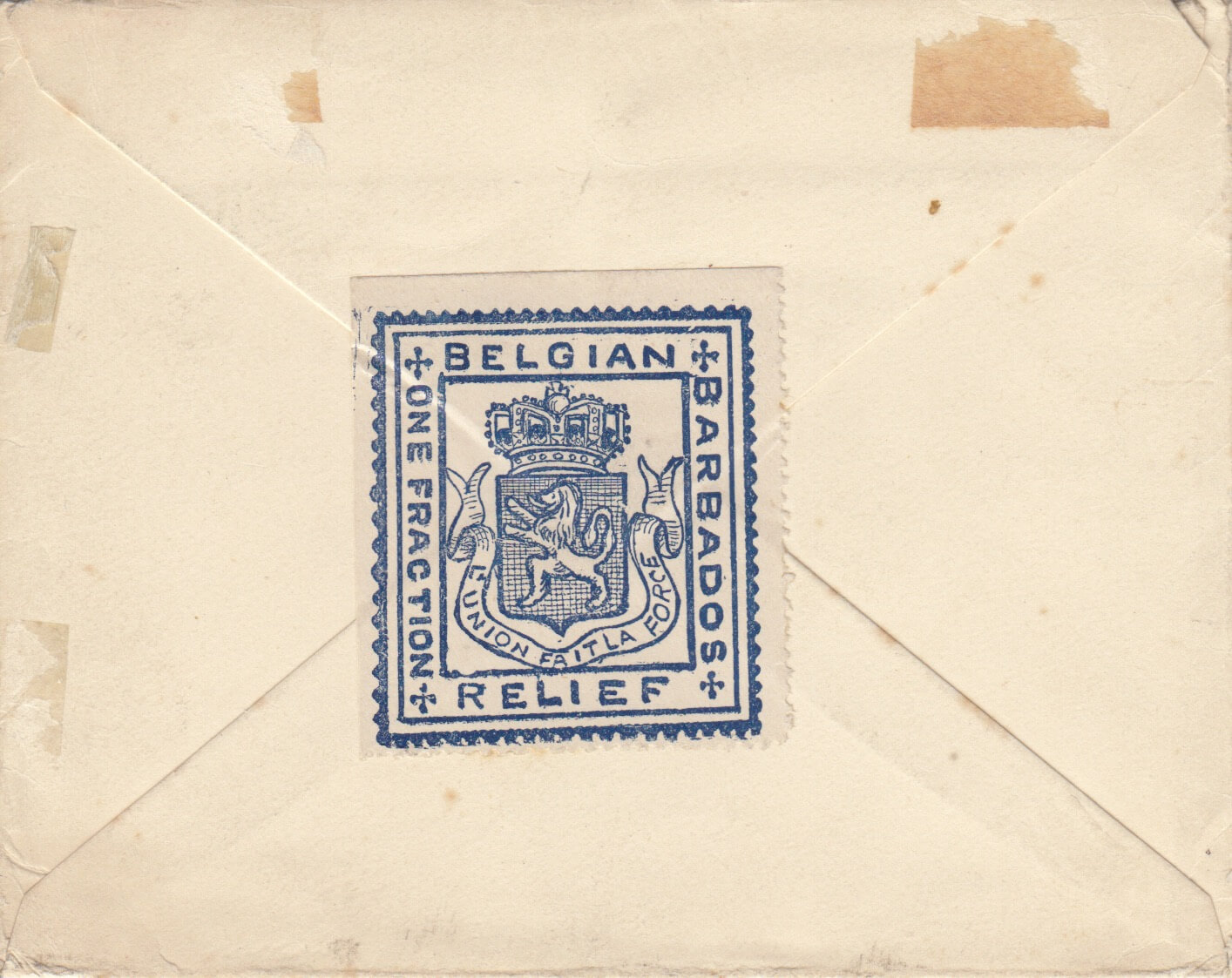 As you can see, these attractive labels were added by senders, either to the front or back of their letters, as a way of expressing support for the Belgians in their time of need. Much as people today are using social media to show support for Ukraine.
If you've ever seen one of the covers or labels, or perhaps own one or more of them, then we'd love to hear from you as you might be looking after a precious slice of history that could help us unlock the mysteries from over 100 years ago.