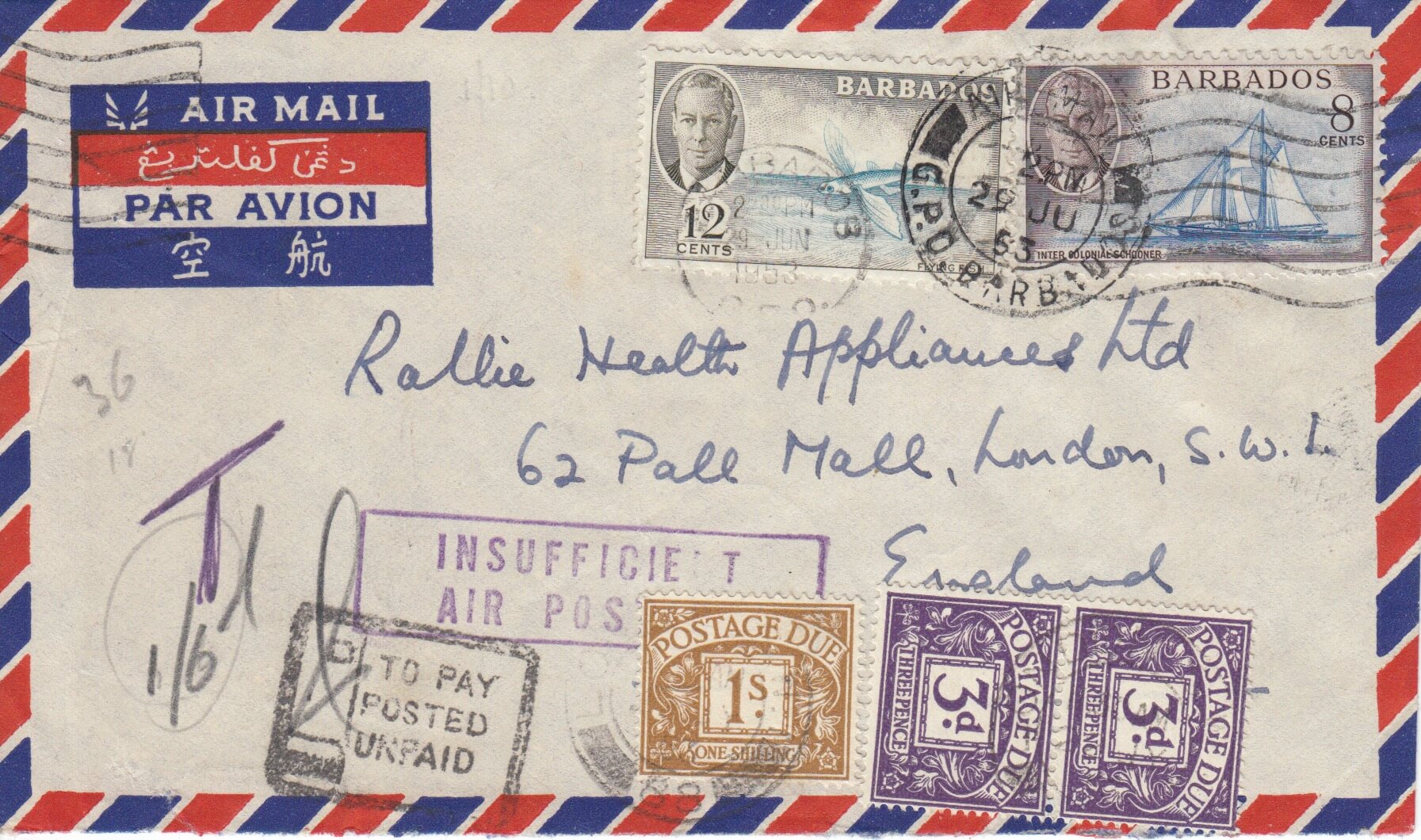 I've always had a soft spot for underpaid mail, with a particular attraction to Postage Due stamps. It always seems strange that there was sufficient misuse of stamps to warrant a completely different set of stamps, just to make up for not using them properly in the first place.
Like many collectors, I have full mint sets of postage due stamps, both for Barbados and also for other countries like GB and St Lucia amongst others. Finding these stamps used, still on the cover, however, is more of a challenge. When you do find them intact, the fun is the puzzle of how they came to be used. After all, shouldn't stamps aspire to be used for the purpose they were created?
When I attended the recent auction of the newly created West Indies Philatelic Study Group (WIPSG)* at RPSL in London, as you might imagine, I was drawn to this cover.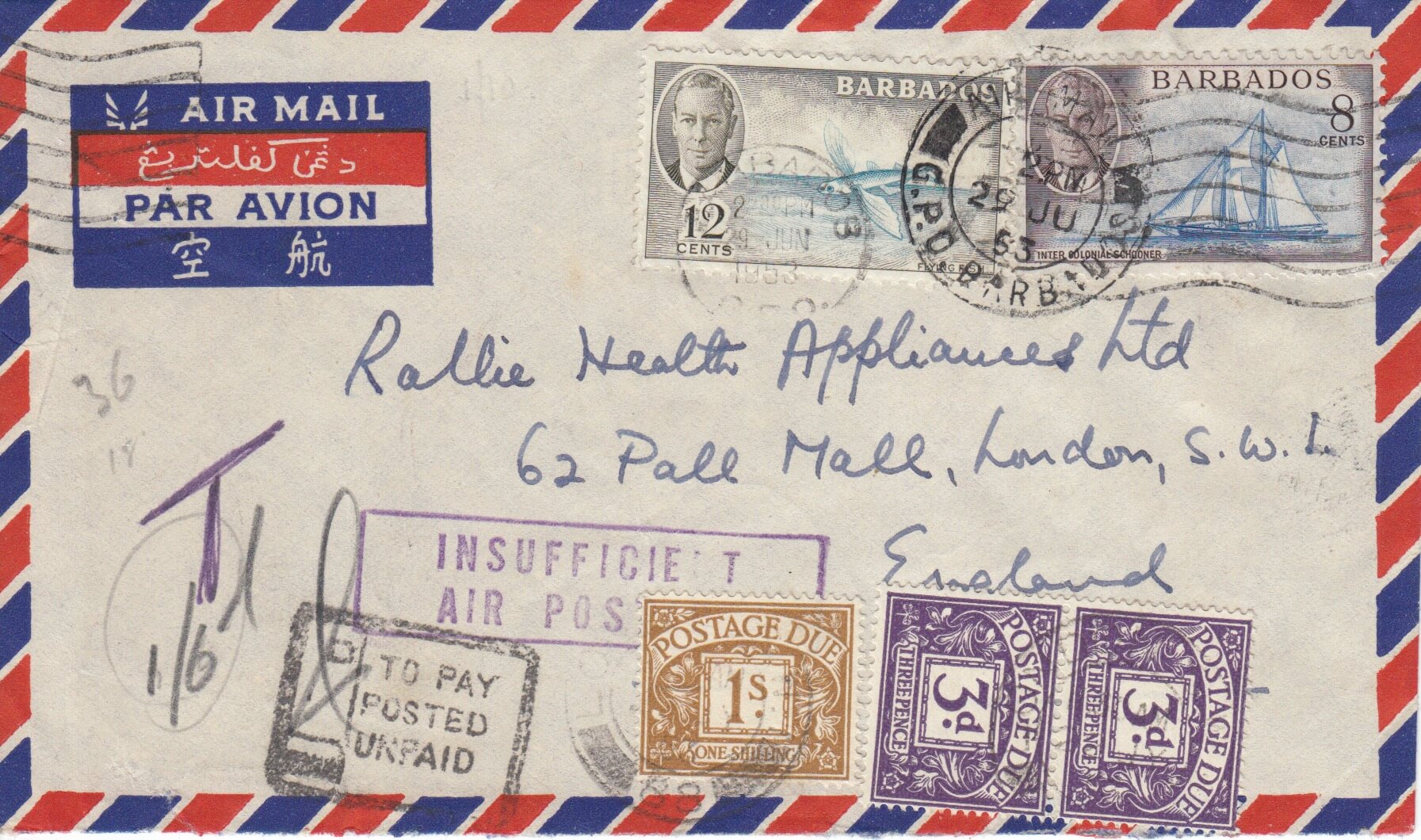 The cover combines my interests in both Barbados stamps and used GB postage dues, still on the cover, so it was essential I purchased it. Fortunately, no one else wanted it and it was acquired for not much more than the price of a cup of London coffee!
I duly posted it on the WIPSG Facebook page and almost immediately was asked what the postage rate was supposed to be. Unsurprisingly, off the top of my head, I couldn't remember the correct airmail postage rates for June 1953 but a quick bit of research and I was able to answer the question.
By checking the Airmail rates table in Bayley's 'The History of the Post Office in Barbados' I was able to ascertain that the correct rate should have been 38c for a letter up to ½oz, which this almost certainly would have been. This made the envelope underpaid by 18c and that meant that it was caught by an eagle-eyed inspector somewhere on its travels. As the purple boxed 'INSUFFICIENT AIR POSTAGE" mark is shown in "Barbados Post Office Markings" by Clarke, Radford, and Cave, it's clear that the cover was intercepted before it even left the island. Alongside this, the inspector in Barbados has drawn a purple T mark to indicate it needs to be taxed.
The cover has then been sent to London by airmail and on arrival it has acquired a "TO PAY POSTED UNPAID" cachet. The receiving office has then calculated that it was 18c underpaid which is then marked as a double deficiency of 36 centimes on the cover. This has been then calculated as equal to 1/6 (one shilling and sixpence) and postage dues have been added to make up that amount. These are probably a combination of SG D39 for the one shilling and D42 for the 3d stamps (as they were the current issues at the time) and once the fee has been paid, they have been canceled with a London CDS cancel denoting payment in full has been made.
What would be even more interesting would be to see the contents of the letter that was sent, as it was addressed to Rallie Health Appliances, 62 Pall Mall, London. The firm, amongst other items, sold a famous 'waist slimming exercise belt' so perhaps this was from a disgruntled customer who deliberately underpaid the cover to exact some revenge! If you want to see what the product really looked like, there is an actual belt that was auctioned in 2022 to view on the Kerry Taylor Auctions page (from where I have borrowed this image below).
Whatever the circumstances, it goes to show that a simple cover like this has a huge story to tell and this is why I am attracted to postal history and underpaid covers.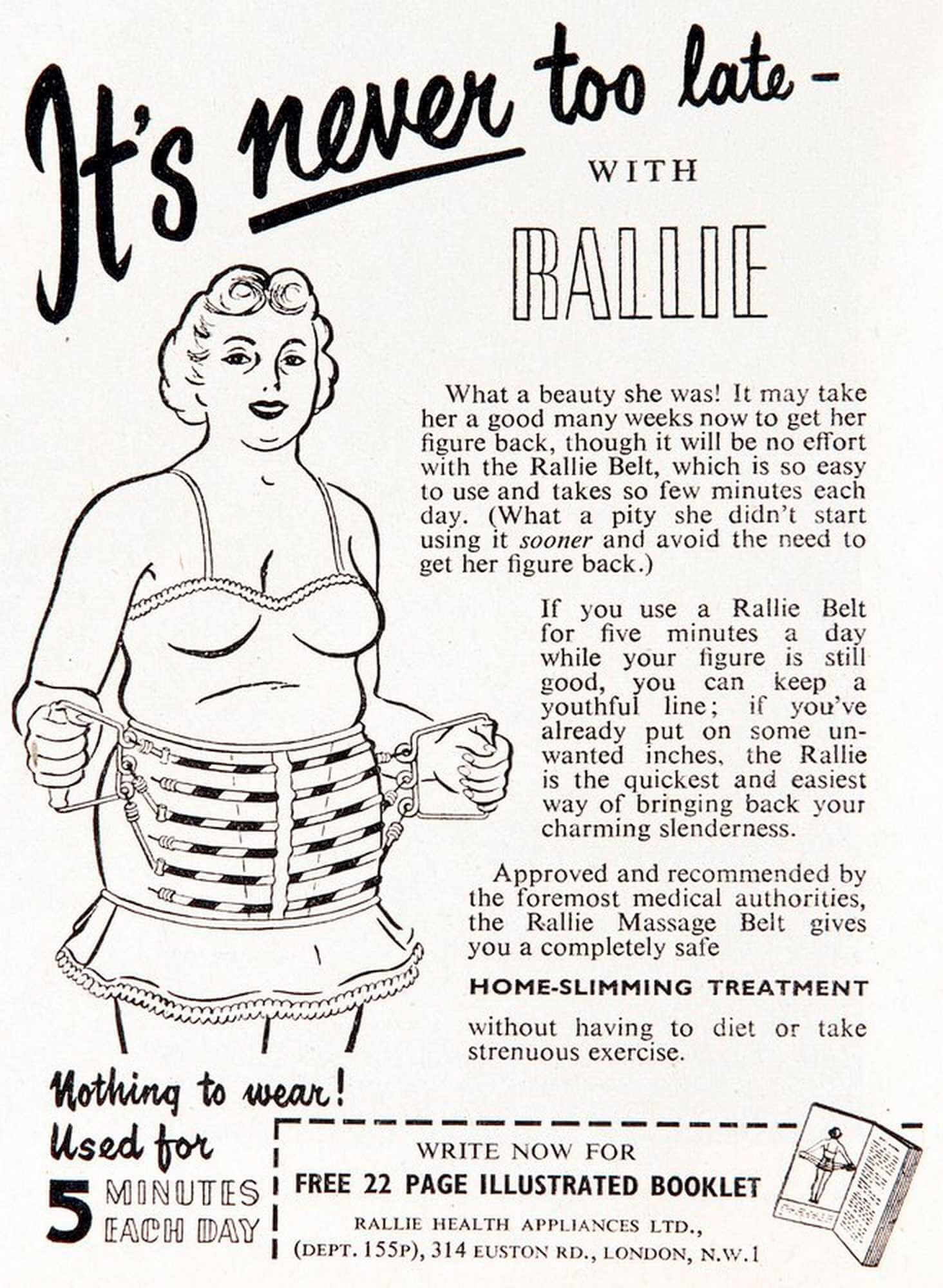 * WIPSG came about from a merger of the British West Indies Study Circle (BWISC) and the British Caribbean Philatelic Study Group (BCPSG) in early 2023
** EDIT – I am indebted to Gary Loew who took the time to correct an earlier part of this article. I had originally written "Alongside this, the inspector has drawn a purple T mark to indicate it needs to be taxed and to the left of that, in pencil has marked a small 18 in pencil, representing the 18c deficit. Above that, they have marked a larger 36 which was double the deficiency, to indicate to the receiving post office that this cover was due to pay 36 cents, converted to centimes, the international currency for all postal deficiencies." Gary kindly pointed out on Twitter that whilst the "T" mark would have been applied in Barbados, noting that the sender had only paid surface postage, the calculation of the deficiency and the translation into Gold Centimes would have occurred in the UK, as per prevalent UPU regulations at that time.