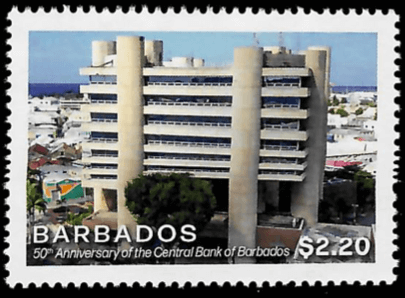 Just a quick post to advise that on May 22nd, 2023, a new set of Barbados Stamps was issued entitled "50th Anniversary of the Central Bank of Barbados". According to local sources, there was also a presentation at the Central Bank.
According to the Central Bank's website, "The set of four stamps features the Bank's different facilities: the main building of the Tom Adams Financial Centre, the Frank Collymore Hall, the Exchange Interactive Centre, which is the Bank's museum, and Church Village Green, its public recreation area."
As soon as the new issue lands here in the UK I'll do my usual full write-up of the stamps and the story, with high-resolution images.