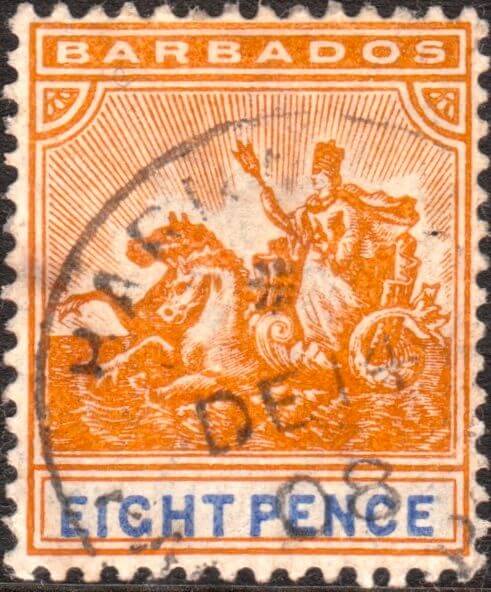 When you collect a country for long enough you tend to find that most stamps will be relatively easy to source yet some will be incredibly hard to come by. It's not that they are especially rare or even that highly catalogued, it's just one of those things.
And so we have SG142, the 8d stamp from the Seal of the Colony Watermark Crown CA set from 1905. OK so this one is quite highly catalogued at £130 for fine used but even so you rarely see it for sale. This and the 2/6/- are both highly valued as used copies and it's hardly surprising given that the set they were in were only used for a year before being superseded by the Nelson Centenary set in 1906. And that's why we're delighted to have found this copy at the right price;
Curiously though this one has been used in 1908 some two years after the set was superseded but a careful look at the catalogue shows that this was the last 8d stamp to be issued in Barbados until 1946 as due to changes in postal rates it wasn't a required value. It is likely therefore that this was one of the last remaining stamps at this value to be used.
Of course, just like buses that come all at once, we're certain that we are going to see loads more like this one coming up all over the place now….oh well.